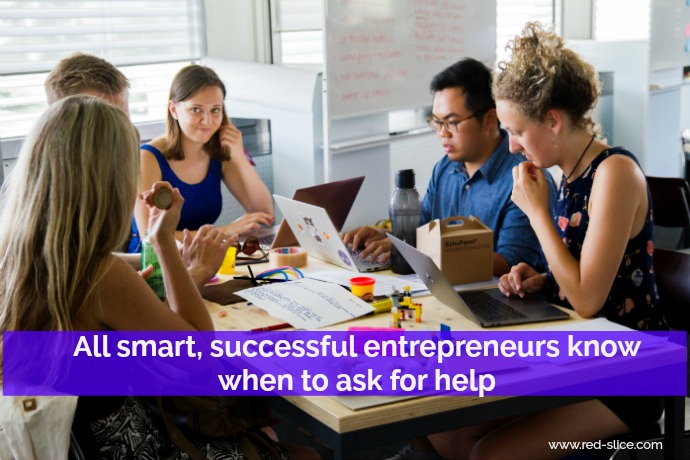 Guess what every successful entrepreneur and business owner have in common?
The key to their success is not merely:
More funding
Innate marketing and sales ability
The right connections
An Ivy league education
or, even the BEST quality product, service, or offering (though that sure helps)
No, what they all have in common….is that they know when to ask for help. (Tweet this!)
Richard Branson, the genius behind Virgin, advises entrepreneurs to not shy about asking for help, like he did:
"I reached out to people who possessed the skills I lacked and asked them for help."
Marie Forleo, internet marketing expert and community builder, shares that "everything is figure-outable", her mantra for building her empire:
"If I don't know how to do something, I'm pretty sure there's someone else on the planet who does. I Google. I pick up the phone. I ask for help from everyone I know." 
Howard Schultz built Starbucks as an ambitious dream…and even rejoined the company to to right the ship when it started going off the rails. His secret?:
"One of the most undervalued characteristics (of success) is being vulnerable and
asking for help."
You're amazing at what you do. You have such value and talent to offer.
But if you're still struggling with how to build a breakout brand….how to clarify your value, attract the right ideal clients and customers, manage your marketing overwhelm – or promote yourself with more grace, ease and authenticity so that you can reach your goals…
Ask me for help. 
And on September 25, you'll get the chance to raise your hand, commit and say,
"I'm ready to do this right. Help me get to the next level in my current business or launch my next big thing. I'm tired of being paralyzed. I'm tired of manically spinning my wheels. Help me build a brand people adore and truly master marketing!"
MOMENTUM is coming!
The doors open September 25 and you"ll be invited in to a unique coaching/mastermind/business building program unlike any other.
Not just practical actions to build your brand and efficiently market your business, but advice on the mental game, too: creativity, setting boundaries, how to be more creative – so that you take care of your most important business asset: YOU.
Stay tuned!
P.S. Here's what happened for, Diane, a past MOMENTUM-seeker when she decided to be efficient and reach out for help. Sound good?!
"MOMENTUM gave me valuable tools to promote my business with more style and spark. Life threw me some massive curveballs but this program kept me focused. The investment was worth it just to get those weekly emails and constant support. I hatched a new business idea during the program and am now using what I learned to breathe it into life and generate revenue. Working with Maria, I knew I wasn't alone and that someone was keeping me accountable and cheering me on. What a wonderful experience!"  ~ 
Diane Easley
, founder of Be You School and newly launched 
Champagne Friday Pause
Photo credit: Climate KIC, Unsplash