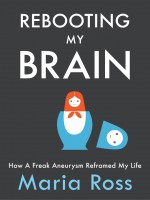 Maria's new inspirational memoir now available!
"When the hectic and meticulously-packed suitcase of your life gets dumped out all over the floor, it's actually a blessing. You can repack it however you want. My life had whipped itself up in a frenzy of change and stress until my head (quite literally) exploded. Once the rubble was cleared away, I saw the world in sharp focus."
Rebooting My Brain is the true story of what happens when you get yanked out of your life by a crisis―and have to get back on the ride all over again. With refreshing candor, Maria Ross shares how the relentless pace of her life came to a screeching halt when an undetected brain aneurysm ruptured and nearly killed her. Along her stubborn road back to health, her resulting cognitive and emotional challenges forced her―sometimes kicking and screaming―to reframe her life, her work and her identity.
With humor and heart, Ross shares what it was like being blind for six weeks, how a TV crime drama and a brain-games website played key roles in her recovery, and why a handmade necklace helped her regain her sense of self.
Ross reveals the keys to her extraordinary comeback and how her perspective is forever changed, mostly for the better. Funny, touching and real, this book not only shares an inspirational story of transformation but enlightens readers about the surprising effects of brain injury… and explores the question, "How do our brains define who we are?"
Buy your digital, paperback, or audiobook copy now through Amazon!
Also available through Barnes & Noble (paperback) and IndieBound
PRAISE FOR REBOOTING MY BRAIN:
"A captivating, deeply authentic memoir of a devastating illness and a heroic recovery. Maria Ross' memoir Rebooting My Brain is a testament to one woman's personal courage and a reminder that health is a tenuous treasure."
­– Carol Cassella, best-selling author of Oxygen and Healer
"Maria Ross weaves a tale of inspiration, love and hope about an active woman reclaiming her life after an unexpected crisis. Her humorous and honest voice leaps off the page and makes you feel as if you're talking to her over coffee, even when she's describing medical procedures. This is a must-read for anyone who's ever had the rug pulled out from under them, not just brain injury survivors and their families."
– Ingrid Ricks, author of Hippie Boy: A Girl's Story
"Her experiences strike me as authentic, compared to many other memoirs. She truly writes with unabashed candor. The post-aneurysm months were excruciating, but with tremendous spirit (perhaps that perky marketing optimism helps) we root for her. She's humorous and honest …Her reflections on the tenuous, and even frivolous, nature of health are touching. It's all random. And it doesn't matter who you are or what you believe." –
– The San Francisco Book Review
"Tragedy can quickly turn to opportunity. With a positive message that speaks loudly, "Rebooting my Brain" is a fine read that shouldn't be overlooked by anyone seeking recovery-oriented memoirs."
– Midwest Book Review
"Rebooting My Brain is a deeply moving account of Maria Ross's brain aneurysm and her struggle to come to terms with it. She has written a memoir full of humor, grace, and hope, making it clear such a devastating injury can be overcome and can even serve as a means of discovering what is truly important in this life."
– Nick O'Connell, author of On Sacred Ground: The Spirit of Place in Pacific Northwest Literature and founder of TheWritersWorkshop.net.
"Rebooting My Brain is an inspirational memoir about the human capacity to recover—and thrive—after a devastating crisis.  Maria Ross tells a moving tale that reminds us not to take anything in our lives for granted, especially those we love."
– Emma Carr, author of London Falling
"Rebooting My Brain is a story about the devastating strike of illness and its effects. What is so moving about Ross' account is that, though she follows a traditional route, she makes the story her own, and gives it generously to her readers."
– Indie Reader
"Maria Ross is a courageous and amazing woman who has turned her determination to return to a vital and meaningful life after a ruptured brain aneurysm into a mission to help others. She tells her wonderful story with humor, insight and profound understanding of what is truly valuable in a life well-lived in Rebooting My Brain. I highly recommend it as inspiring reading and as an intimate way to learn about this very common life-threatening condition."
– Dr. Nancy O'Reilly, Psy.D. Founder of WomenSpeak.com and WomenConnect4Good Foundation, Inc. Keynote Speaker and Author of Timeless Women Speak: Feeling Youthful