WORK WITH ME
Want to play with me to promote your business, brand or message? Perfect. Here are some ways I can help you be brilliant: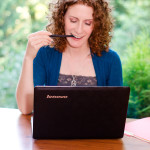 Sign up for email goodness: Come join your fellow rockstars, entrepreneurs and changemakers on the Red Slice Nation email list and don't miss weekly insights, sparkling interviews and practical inspiration to boost your brand – and your brain.  Plus, exclusive offers, programs and events available only to subscribers.
Read the book: Want to build an irresistible brand on any budget? Let me show you how. Check out my book, Branding Basics for Small Business, 2nd Edition, which MarketingSherpa called "…a roadmap leading small businesses and entrepreneurs in the right direction."
Discover Brand Bootcamp: Are you a solopreneur or indie business ready to take your business to the next level and gain clarity, focus and confidence in all your marketing and messaging moves? Don't miss this self-guided and stress-free digital course that offers powerful tips on messaging, differentiation, content development – even pitching the media and working effectively with freelancers. Learn more…
Book a Brand Booster Session: Want a tempting taster shot of brilliance to get clear and creative on your brand and message? This time is YOURS to tackle whatever is holding you back from your next brilliant move. In 90 minutes, we'll spot-treat what's working (and what's not), sanity-check your plan and even brainstorm juicy ideas for your next offering, website, book, or….? Learn more…
Book a Full-on SLICE Retreat: Longing for a soul-searching, in-depth immersion into your brand, marketing and messaging?  After some pre-work, spend one day with me (by phone or live) and together we'll source + shine your story, position, value + mission. We'll also slice straight to the juiciest, most salient points to attract the right clients + customers. There is a SLICE for solo entrepreneurs and one for start-ups and small to mid-sized businesses with…ahem…boisterous management teams that want to align and accelerate. Learn more…
Hire me to speak: Want me live and in-person? I adore delighting audiences of any size, so bring me to your next team offsite, company strategy session, chapter meeting or epic conference. Combining wit and wisdom, I deliver practical, yet dynamic content in workshops and keynotes that people can use right now. Check out some nice things people have said about me and view my video reel just to ensure I won't bore your crowd.
Got a special request not listed above? I'll see what I can do…please send me a message