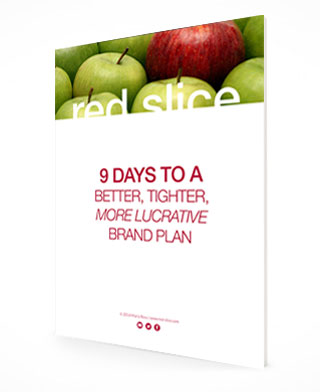 What have you done in the last nine days?
Most weeks, my answer would be something like "drank a nice cabernet, tweeted about my favorite sports teams, cooed over my baby, went to a few networking events, binge watched House of Cards."
Nine days doesn't seem like a very long time, but if you've got some help (cough an experienced branding consultant named Maria Ross cough), a plan, and a good dose of tenacity you'd be amazed at what you can do. Really!
How do I know? I've been branding and marketing for ages.
Since launching Red Slice in 2008, I've helped thousands of business owners and entrepreneurs create irresistible brands through my client work, workshops and book.
With a little help from some of my favorite experts, I've polished and honed my best ideas into this handy little get-started-today plan.
Download your free guide right now, 9 Days to a Better, Tighter, More Lucrative Brand Plan
What are you waiting for? A better, tighter, more lucrative brand is just a week and a half away!
*Not only will you get this fabulous free guide when you sign up above, but you'll also receive weekly insights and inspirations to boost your brand and amplify your message, delivered fresh to your inbox. Delicious!