Hello there, you changemaker and rockstar!
I'm delighted to share a FREE sample…an amuse bouche, if you please…of my delicious book, Branding Basics for Small Business: How to Create an Irresistible Brand on Any Budget (2nd Edition).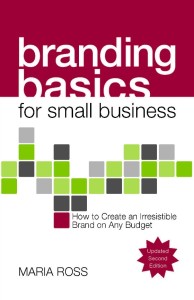 This book was a labor of love to help you:
clarify your message and value.
target the perfect audience for your efforts.
streamline your marketing efforts for maximum OOMPH.
attract raving fans to your business, blog or other big idea!
Enjoy this special sneak peek. If you want to get to the juicy heart of the book's content, including my 10-question brand-building process, sizzling case studies AND how to put all of this thinking into practical action, there is info on the last page on how you can get more.

Or if you already know you just HAVE to devour the entire book from peppy start to glorious finish….click here now.
Hope this whets your appetite!
Best,