Need a fresh branding expert, marketing speaker or inspirational keynote speaker to liven up your next event?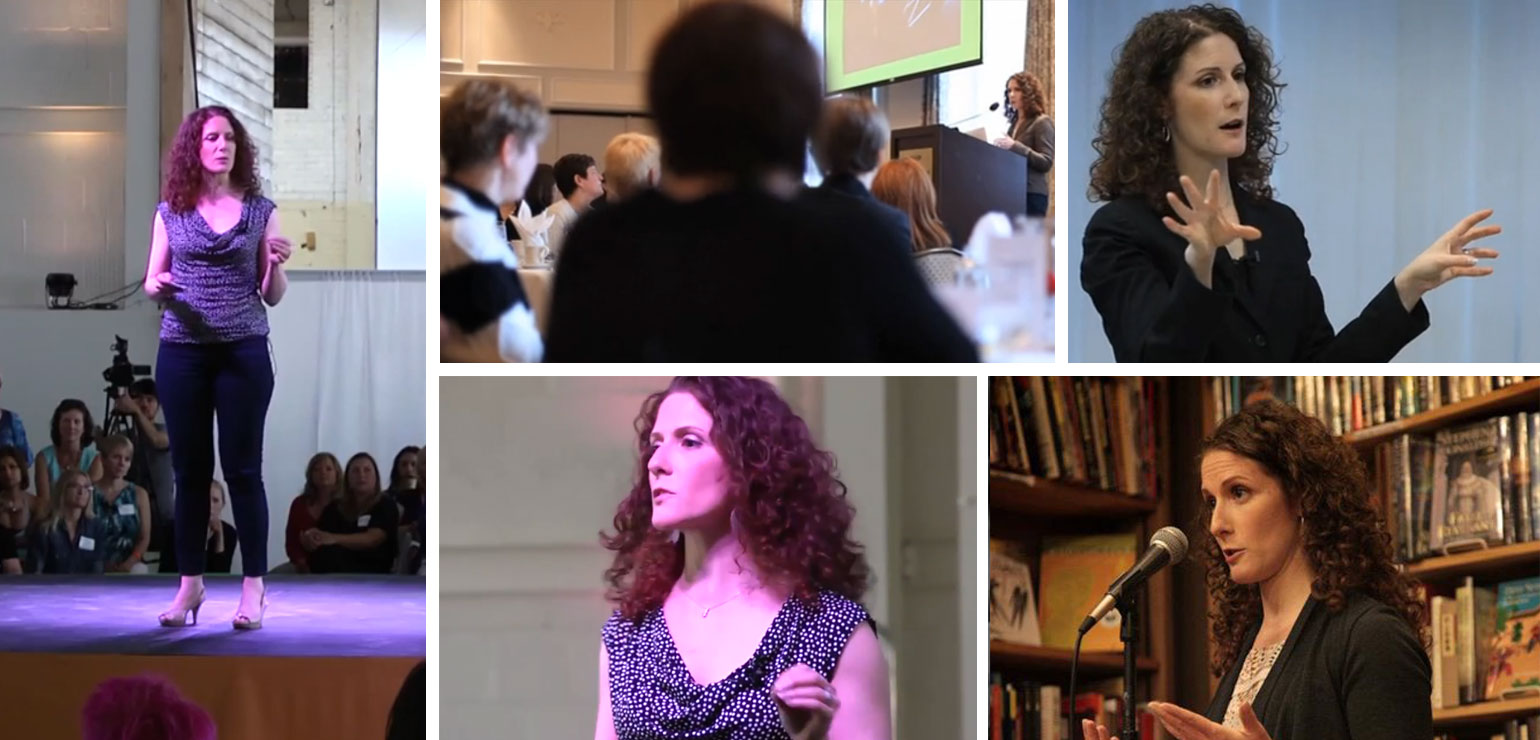 If you're seeking a fresh marketing speaker or a dynamic business motivational speaker, grab me for your next event. As the author of Branding Basics for Small Business, The Juicy Guides for Entrepreneurs and as a professional branding and marketing speaker, my customized content inspires your audience while providing the impact they crave.
I have delighted audiences of all shapes and sizes and will bring my trademark practicality, wit and wisdom to your next event. From webinars to executive workshops, keynotes to conference panels, I've been fortunate enough to delight crowds while offering valuable insights.
As a branding, marketing and inspirational speaker, I've been featured in numerous media, including NPR, MSNBC, ABC News, Forbes.com and many talk radio shows.
Sample speaking topics include (but I can always create custom content to perfectly fit your needs):
Branding Basics: How to Create an Irresistible Brand on Any Budget
How to Delight Customers and Build Brand Buzz
Stand OUT! How to Differentiate in a Crowded Market
How to Craft a Killer Elevator Pitch
You, Inc: Building an Authentic Personal Brand
The Secrets to Crafting Magnetic Messaging
The Seven Deadly Sins of Branding: How to Avoid Eternal Stagnation
Reboot + Reframe: How a Freak Brain Aneurysm Flipped My Entrepreneurial Switch
The Three Keys to Bouncing Back from Crisis
If you seeking Health and Inspirational content, click here to learn how I can inspire your audience: Life's curveballs have nothing on me. I also speak about overcoming adversity, brain aneurysm recovery, patient advocacy, the surprising effects of brain injury, and the keys to bouncing back from crisis. Perfect for women's groups, medical associations, healthcare/insurance audiences, patient advocacy groups, or inspirational keynotes.
To book me as your next brand and marketing speaker or business motivational speaker, please send me a message with your request.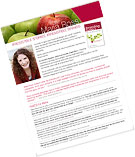 Download Maria's Speaker Sheet


"To be an effective speaker, you must first be an exceptional listener. Prior to leading two sessions during our conference, Maria Ross did her homework to understand our industry. She heard my concerns, respected my requests, then successfully delivered a customized, relevant presentation to a very discerning audience. She was the highlight of our meeting. If content is King, Maria is Queen of presenting fresh information in a style that's immediately engaging."
– Tina Ruggiero, Chief Creative Alchemist, PSI, Inc
"Maria Ross was not only a true professional both on stage and leading up to the event, but a very down to earth person who makes you feel like you've known her forever- even when you've just met. You can't beat it when someone is easy to work with and also gets rave reviews when up on stage!"
– Gabriella Buono, Director of Small Business Events & Programs, Greater Seattle Chamber of Commerce
"Maria gave our conference attendees concrete advice for not just developing a smarter branding plan, but for creating stronger, more cohesive business strategies. Her clear delivery and patient demeanor were invaluable! She makes a great addition to any speaking lineup."
– Erin Slonaker, Editor in Chief, Yarn Market News (Soho Publishing)
"Maria has been a repeat speaker for BlogHer Conference, including a keynote speaker at this year's Pathfinder Day for highly aspirational social media leaders. Whether she's using her personal life experiences as the framework for a deep personal development conversation, or leading a tactical workshop on developing your personal brand, Maria delivers stellar content. And actionable content. We have had Maria speak on more than one occasion (which is rare…we feature 80% new speakers at every event, so repeat speakers are a rarity). And we would have her speak again!"
— Elisa Camahort Page, Founder & COO, BlogHer, Inc.
We brought Maria in to our team offsite to inspire us to think about our brand in a fresh new way. We want to keep the brand personality that makes us special as we scale and grow – no small task. Her insights, exercises and engaging style got everyone fired up about how we can better live out our brand and values in every area of the organization. Maria is a great facilitator and she deftly got our diverse group talking and contributing.  I'd highly recommend any start-up or fast-growth company engage with Maria to ensure they retain their "DNA" as they grow.
— Sherry Lowe, VP Corporate Marketing, Splunk
"Maria is an excellent presenter. She was focused, organized and very relevant. The diverse audience – some new businesses, many established – responded that Maria was one of the best presenters ever featured by our organization. She delivered a tremendous amount of information, yet kept it easy to follow, and provided manageable action steps to take our brands and businesses to the next level."
– Cheri Johnson, Program Direction, The Alliance of Women-Owned Businesses
"Maria was one of the most talked about speakers at our event. The depth of her knowledge and her passion for brand story telling was evident. Her brand carries right on through to her book – Branding Basics for Small Business. You will not be disappointed with Maria speaking at your event or hiring her to help you craft your brand story."
– Bill Flitter, Founder and CEO, Dlvr.it
"Maria is the type of facilitator that is incredibly skillful at creating an environment where people are engaged, eager, and ready to take action. The kind of speaker I am always hopeful to find! I was impressed with her ability to present information on effective branding practices while simultaneously inspiring the attendees. Maria's willingness to bring a more personal touch to her professionalism is refreshing – I highly recommend her!"
– Amanda Dellinger, Audience Development Account Manager, Puget Sound Business Journal
"Maria was our keynote marketing speaker at a recent Wedding Network USA monthly meeting. She was able to inform our membership and guests on ways to work on our brand strategy through a series of questions to ask ourselves and to do it without spending a lot of money. Many of our members thought it was one of the best presentations they heard on the topic. If you have the chance, have Maria speak to your group, you will not be disappointed."
– Jennifer Taylor, National Chapter Director, Wedding Network USA
"Maria Ross provided a patient testimonial in front of 500 UW Medicine leaders at a recent Leadership Institute training. Ms Ross was poised, articulate, and highly effective with her presentation. She made her experience come to life in a most impressive way. The segment received rave reviews and was considered the corner stone of this important 2-day session."
– Grace Parker, RN, MN, Director, Ambulatory Care Division + Speaker Liaison for Leadership Institute Conference
University of Washington Medical Center
"Maria was one of the Puget Sound Business Journal's speakers in our BizDev series. Maria puts on a lively and informative workshop that leaves the attendees with more than just tips but action items that can be implemented immediately. She was a joy to work with and I recommend her highly
– Sarah Schosboek, Director of Circulation, Puget Sound Business Journal
"I had the pleasure of working with Maria Ross, who was our guest speaker at Words @TheWoodmark. She is a true professional in every way and has a talent for demystifying branding to an audience."
– Kristin Riefflin, PR Account Manager, GreenRubino
"Maria is always a wonderful guest speaker. No matter the situation, whether presenting, speaking or providing support materials and resources, she's always highly professional and informative. She's become my go-to expert on the topic of branding, because I know she'll deliver engaging and helpful content for my audience each and every time."
– Amber Singleton Riviere, Producer, Rock Your Genius and Upstart Smart Radio
"Maria is a favorite speaker at Ladies Who Launch events and always delights, educates and sends us home with practical actions to implement."
– Linda Snyder, Market Director, Ladies Who Launch – Seattle
"Maria was a panelist at our Branding Inside Out event. Her content was relevant and impactful to the small business audience and she is an engaging speaker and presenter. The workshop was well received and evaluated 'excellent' by the audience. We enjoyed having Maria as our guest and look forward to opportunities to collaborate in future."
– Ayesha Mathews-Wadhwa, Director, San Francisco Bay Area, Savor the Success.
"I enjoyed…your sparkle, expertise and enjoyment of your work." Workshop Attendee
"Packed with info and lovely style!" Workshop Attendee

NAWBO Silicon Valley: Dinner Keynote Speaker
Urban Campfire, Seattle: Featured Speaker
The New York Times Small Business Summit: Featured Panelist
BlogHer: Keynote/Workshop
Content Marketing Strategies Conference: Kickoff Keynote Speaker
IHA Health Literacy Conference: Keynote Speaker
Women Business Owners Seattle: Luncheon Keynote Speaker
University of Washington Medical Center, Leadership Training Institute: Kickoff Keynote Speaker
Legacy Health's Health Literacy Conference: Luncheon Keynote
Greater Seattle Chamber of Commerce: Conference Keynote Speaker
CRAVE Symposiums and Business Chats, Vancouver and Seattle: Moderator, Speaker, Facilitator
Small Business Administration: Branding Workshop Leader
Small Business Branding Basics Workshop:Branding Workshop Leader
Seattle University and Bellevue Community College: Guest Lecturer
Ladies Who Launch, Seattle: Featured Presenter and Panelist
Savor the Success, San Francisco: Panelist
University of Washington Medical Center, New Hire Orientation: Frequent Presenter
Ignite Your Marketing! Workshop for Small Business: Co-instructor
Brand Strategies to Boost Your Business Workshop for Small Business: Co-instructor
Direct Marketing Association of N. California: Panelist