A Free 5 Day Challenge to Strip Down Your Marketing,
Build Your Brand and Fire Up Your Excitement!
---
Let's face it: most entrepreneurs love what they do, but haaaaatttte marketing it. Who has time to write witty email newsletters, post inspirational Instagram updates, book speaking engagements….not to mention update a website, create fabulous content and – oh, by the way – attract clients?!
You've got the passion, but you are craving focus and simplicity so you can make small,
baby steps toward your big, daring business goals.
This is so doable, and so attainable! You just need a little guidance and a gentle push.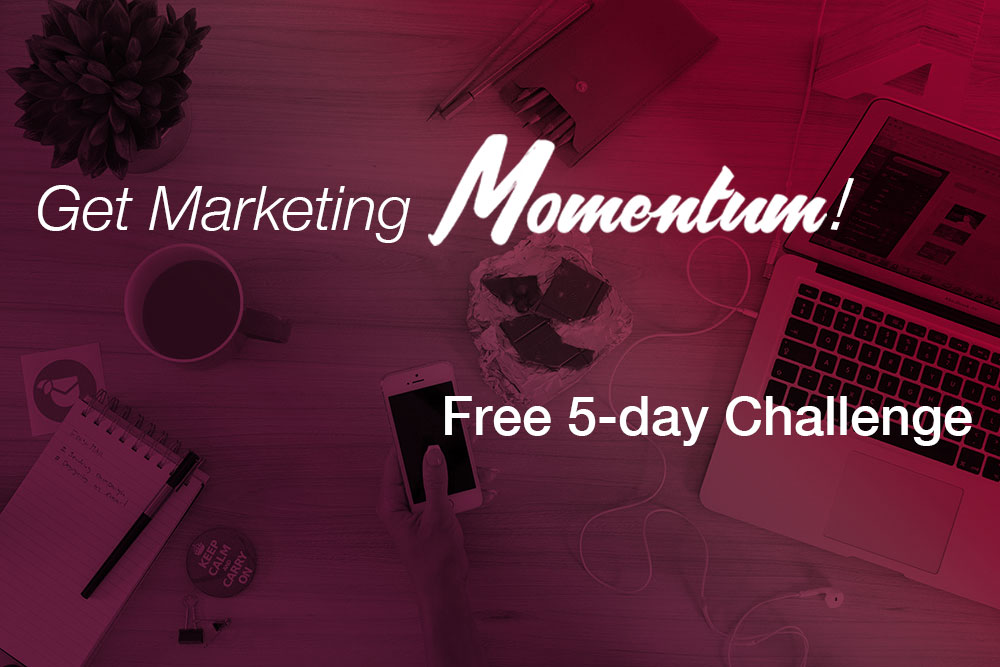 You need MOMENTUM: A Free 5 Day Challenge to Strip Down Your Marketing, Build Your Brand and Amp Up Your Excitement.
In the MOMENTUM Free 5-Day Challenge, you will:
Strip your marketing down to its barest, most do-able, essentials (ooh la la!)
Create content that your audience can't resist (yes, you will get it done!)
Pump up your email sign-ups and attract raving fans
Free up your time and tame your marketing to-do list. #Confidence
Each day, you'll receive a daily caffeine-jolted challenge to MOVE FORWARD on the very things you procrastinate on the most. By the end of one week, you'll ignite your marketing mojo and you'll actually get s*it done. Marketing your business should excite you, not exhaust you.
Trust me: there is a brand and marketing genius inside you, bursting to get out!
You can do this. And with a pricetag of zero dollars… um, I'm not sure what you're waiting for!
Just enter your first name and email into the snazzy box below. Your challenge begins on September 18, 2017
Ready to roll? Hang on tight!