Resources, videos and products to juice up your brand efforts – plus cool links, free stuff and more. Please note that some are affiliate links, so when you buy to boost your business & life, we both win!
Branding Basics for Small Business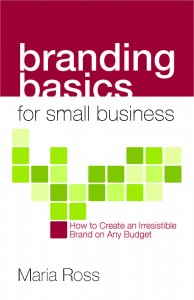 My book shows entrepreneurs, non-profit execs and marketing professionals how to save time, money and headache on marketing, messaging and branding efforts. Wanna create a brand that connects with customers? Look no further than this fresh, sassy guide with case studies, examples and a foolproof 10-step process to crafting the perfect brand.
Check out purchase details and all the rave reviews!
Clever Reads to Boost Your Business
The Seven Deadly Sins of Branding: How to Avoid Eternal Stagnation. Seven mistakes you should avoid if you want to build an irresistible brand that connects with the right customers, attracts rabid loyalty and gets fabulous word-of-mouth. Sign up for email updates now to get your free report!
Labels, Labels, Labels: How do the terms "mompreneur" and "women entrepreneur" affect your brand, according to other women business owners? Check out this informal Red Slice report full of  juicy insights and comments to help you determine if the brand labels you are using are a help or a hindrance to your efforts.
How to Play Nice with Consultants: A Practical Guide to How to Be a Great Client So You Can Get Great Results for Your Money. There are countless books about hiring the right people and managing your team effectively. But where do you learn how to work effectively with contractors on short-term projects? Check out this report for five crucial tips for getting exactly what you want.
Welcome to Red Slice on MySourceTV!
In partnership with MySourceTV, I'm proud to offer you these free video stories and strategies to boost your business, brand and brain. Inspiration. Education. Insight. It's all right here!
Episode #1: What is Brand and Why Should You Care?
Episode #2: Communicating Your Brand
MySourceTV Mastermind Series: Secrets to Creating an Irresistible Brand

Calling All Bold Authors
Got a book inside you yearning to burst forth and illuminate the world? A book is always more than just a book. Much more. Writing a book could direct the course of your career for the rest of your life. It could lead to infinitely important connections, multiple revenue streams, spin off products, international relations. It could send more business your way. It could pay for a trip to Tahiti or just pay the rent. It could change one person's life for the better. It could start a revolution. You need a plan.  YOUR BIG BEAUTIFUL BOOK PLAN (click on "Shop" when you get there) is a digital program for people who want to get their word into the world — where it belongs.
With 400+ pages, 8+ hours of audio and video, and never-before-seen samples from 20+ book proposals that sold (for A LOT of money), this is a veritable Bible of book-writing prowess — a behind-the-scenes view into what grabs an agent's attention, what captivates publishers, and the logic of treating your book like a business. (Because it is.) Click HERE for  all the goodies (Remember to click on Shop when you get there)
Branding Secrets from the Experts:
Listen to this Branding Masters Telesummit where 12 leading branding experts (Red Slice included) share advice on how to build a strong brand, stand out in a crowded market and reach the right people with your message.
Great insights, news and just playful stuff:
Brand New: Opinions on Corporate and Identity Work