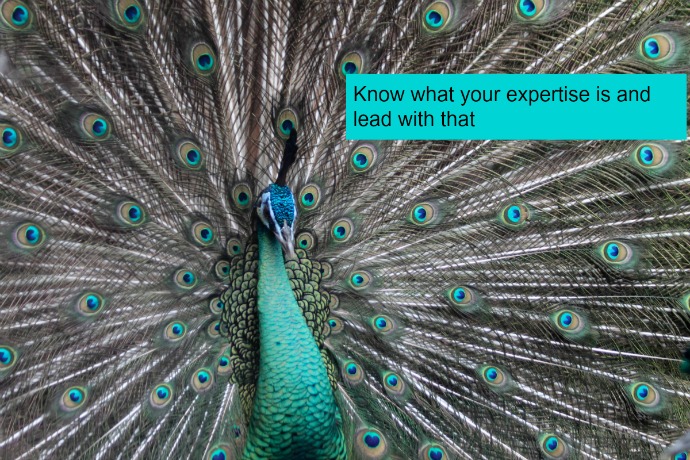 If you're a consultant of any persuasion, you have probably heard this ad naseum:
You have to establish yourself as a thought leader.
Let's break down what this really means, why thought leadership matters and how you can build a thought leader brand.
Thought Leadership Defined
Thought leadership is simply establishing yourself as the expert on your chosen profession, not just on the products or services you sell. It means people come to you for your thoughts or take on things that happen in your industry. If you're a dog training expert, you might be asked to comment on a recent dog fighting bust and how those dogs will be rehabilitated. If you're a health and wellness thought leader, reporters might seek you out for your opinion on the latest Hollywood fitness craze. If you're a financial expert, people may clamor to hear how you interpret the proposed changes to international tax laws.
A brand built around thought leadership has lots of legs. (Tweet this!)
Why Does Thought Leadership Matter?
People want to hear from thought leaders. You can score lots of brand awareness by being quoted in the press, speaking at conferences or authoring a book. Maybe your particular service or product will grow stale or fall out of fashion: if you're a thought leader in your overall area of expertise, you can constantly evolve, create ancillary products or services, and build longevity.
When brand news breaks, I am honored to be asked for my opinion. People have come to me and asked for my perspectives on news such as the Susan Komen debacle or the Lance Armstrong brand wreck. But things didn't start out that way…
How to Build Your Thought Leadership Street Cred
If you want to be a thought leader, you first need to consider what you want to be known for – and if you truly have expertise in that arena. Hmmm..that sounds an awful lot like your brand strategy, doesn't it?
(I'm going to assume here that you want to establish yourself as a thought leader in an area in which you truly have experience, wisdom and value to share. If you're trying to establish thought leadership as a marketing gimmick to "get rich quick" – and believe me, there are many people out there who will try to take your money to show you how you can present yourself as an expert in ANY area you like – I think you might be reading the wrong blog.)
OK, so you can totally position yourself as a thought leader in customer service/innovation/money management/wellness. Fab. Now how do you go about building up that brand?
Here are 4 ways to brand yourself as a thought leader:
Create Insightful Content, Not Just Sales Pages: Maintaining a valuable and consistent blog, starting a podcast interview series, creating sassy videos or even writing industry insight white papers on a regular basis allow you to present your point of view. It's like being the editor of your own magazine or TV show without the pesky gatekeepers. Plus, creating all this useful content gives you something interesting to share in social media. PLUS, it provides constantly updated content on your site so you show up well in organic search. Meaning, when reporters are looking for people; to interview on your chosen topic or clients are looking for the best of the best in an area they need, your content will be fresh, timely and relevant. Thought leaders always have their finger on the pulse and if you are never putting new, rich content out into the world, no one will remember your name.
Write Contributed Articles: Approach the online and offline publications in your space and offer to write a contributed article on a specific topic. Media outlets are starving for good, free content right now and as long as you don't pitch but provide insightful content, they are happy to run expert work. Having press clips you can promote on your site – and media logos you can cite in an "As seen in…" section are vital for a thought leadership brand. Side benefit: If you do Tip #1, you can repurpose blog posts or other content to use as a media pitch. Time saver!
 Book Speaking Engagements: I know, I know…"Easier said than done, Maria!" Well, we all gotta start somewhere. I started out offering to speak everywhere to everyone with no expectation of pay. While this is not something I particularly agree with on an ongoing basis (organizations making money off of events should pay the people providing the content and creating the draw for said events), you do have to build thought leadership slowly. Get people talking. Make connections. Weigh the benefits you'll get. While I don't often do free speaking engagements anymore, I do make exceptions if the exposure is huge or the potential for paid work is REAL and present. One free speaking engagement I did last year gave me amazing exposure AND led to someone in the audience hiring me to speak for my regular fee. Fine-tune your perspective and presentations during these "freebie" engagements. Once you establish the thought leadership, you will not only be able to command speaker fees, but you'll have presentations already created that you can simply tweak and reuse.
TIP: You don't have to advertise that you don't charge a fee at first. Come up with a fair fee you would like to get paid, invoice the organization for that amount but zero it out so they understand the value of what they are getting for your brilliance. Then, if they recommend you elsewhere they can say, "Well, her fee is x but she's willing to negotiate." And pretty soon, organizations will expect to start paying that fee and you can begging charging for your time.
What is your area of thought leadership? What has worked for you in building that thought leadership? Please share in the Comments below.
Photo credit: Nina Matthews Photography on Flickr