Red Slice recently chatted with Beth Buelow of the Introvert Entrepreneur where she coaches our less extroverted brethren on how to build a successful business. She helps them understand, own and leverage their strengths for personal and professional success. In today's Ask the Expert, she shares with all of us – introverted or not – how to get off the treadmill of useless networking, blogging or "stuff creation" and build a powerful content strategy that turns lookers into buyers.
A certified professional coach, Beth works primarily with introverts and offers one-on-one and group coaching, teleclasses, webinars and workshops. Prior to becoming a coach, she enjoyed a successful nonprofit career, with responsibilities as diverse as fundraising, marketing, website management, grantmaking and public relations. Her obsessions include developing her advanced coaching skills, as well as deepening her knowledge of Jungian psychology, Voice Dialogue, and the Myers-Briggs assessment tool.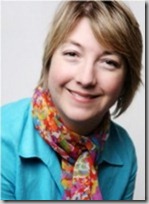 RS; Hi Beth! Welcome. How do we move someone from "kudos to client?" when warm fuzzies and cool newsletters aren't paying the bills.
BB: When you're first starting out, there's a certain amount of spaghetti strategy happening: you're throwing things up against the wall and seeing what sticks. You're probably churning out a lot of content. Much – if not all – is probably free. And you get good feedback and encouragement… just not the sales.
This stage is the thrashing stage, where you're getting just enough positive feedback that you think if you just do more, faster, better, bigger, people will convert to clients. What's missing is strategy and intention behind your content. People are most likely confused about what you have to offer, what your strength is, and how you are the solution to their problem. A confused mind always says no. It might say, "Great work, loved the newsletter!" but it doesn't take the time to connect the dots that you have scattered all over the page.
RS: I love that: "A confused mind always says no." Same holds true if your brand is schizophrenic! So what do I need to do to create a strategy for my content?
BB: My favorite approach is to look at it through the framework of Moves Management. Moves Management is a term used in the world of nonprofit fund development. Here's one definition: "a system, a process and a plan for building a relationship that moves individual prospects to engaged, passionate donors." (Alexander Haas Martin & Partners)
I use this expression because I have found that attracting clients is very similar to raising money for an organization. Donors – and in our case, clients – move through a process that is established by the organization. If the strategy is clear and intentional, and the organization knows exactly who it wants to attract, each touch point is designed to shift the relationship to a deeper level of connection. For nonprofits, the lowest level of engagement is awareness of the organization's existence and being on the mailing list. The highest is a donor who makes a planned gift (allotting part of the donor's estate to the organization upon the donor's death).
The donor is not necessarily aware of the moves the organization is putting on them. If it's all done smoothly, the donor moves from level to level rather seamlessly, and of their own volition.
The same is true for your prospective clients. A well-designed Moves Management process outlines clear steps for you to take (and clear content for you to create) that transitions a client from Casual to Convinced. Just like you don't meet someone at a party then ask him to marry you, you don't hand someone your business card then ask her to purchase your Platinum Package.
RS: This sounds just like the sales process or buying process that marketers live and die by. I talk about this in workshops as "Awareness, Education, Consideration and Purchase." But Casual to Convinced sounds much cooler. What does that mean?
BB: I break the Moves Management funnel into four sections: Casual, Connected, Committed and Convinced. Each section represents a deepening of the client's relationship and investment.
Casual
Offerings (blog, podcasts, Facebook fan page) at this stage determine a prospect's first impression of you; they begin the journey of someone knowing, liking and trusting you. In general, unless the prospective client makes a comment or is required to provide an e-mail to access information, he can remain an anonymous lurker. People are standing on the edge of your business, with one foot in, one foot out.
Connected
Information products/services in this category require more direct communication and connection. The client declares herself and decides to share her information in return for a higher level of interaction from you. There is usually an exchange of value, typically of money or an e-mail address/contact info.
The content you deliver (workshops, newsletters, speaking, etc) is one-to-many. Your offerings reflect your expertise in a deeper way than at Casual, and they can be used in one of two ways: 1) give the client enough "DIY" information that she can take it from there, or 2) give the client enough information that he is inspired, curious and made aware of the benefits of moving to the Committed level.
Committed
At this level, the interaction and content shifts from one-to-many to one-to-one. The relationship is deeper and more personal. You're working together through coaching, consulting, advising, mentoring or providing direct, custom services/products.
Convinced
Working with a client at this level is the end result of her knowing, liking and trusting you. She is convinced that you and your business are the right fit for her needs long-term (which is relative to your business – could be months or years). She becomes an advocate and a source of quality referrals. She's in love! You are delivering your highest level of services and products, in terms of quality, customization and financial investment.
As you create content, consider where it fits into your Moves Management funnel. Communicate clear benefits to your prospects, and have a compelling call to action appropriate to where they are in the funnel. Having a clear strategy puts you well on your way to getting warm fuzzies in the form of appreciation and compensation!