Fall is almost here in my part of the world. Warm sweaters. Pumpkin Spice lattes.  And of course…football season! If you know me, you know I'm a huge football fan, both college and pro. I would never call myself an advanced expert, but I know the game, can recognize many ref calls, and, when my husband wants to wind me up for an amusing rant, he'll bring up the Wildcat formation (while exciting to watch, people can't just go around playing any position they want to, IMHO)
Whether you, too, are a football fan like me or not, you will love today's post. It's about sports, yes, but it's also about how to create an expert personal brand to launch blogs, books and speaking opportunities. We're talking with Kristi Dosh, ESPN's sports business reporter, an attorney, public speaker and author. Kristi is the founder of BusinessofCollegeofSports.com, a website dedicated to the financial side of collegiate athletics. Kristi's latest book on the business of college football, Saturday Millionaires: How College Football Builds Winning Colleges launched this week.  She also has another book due out next year: Balancing Baseball: How Collective Bargaining Has Changed the Major Leagues. Kristi is a frequent guest lecturer in sports management and law programs.
We crossed paths through HARO for a freelance article she wrote. And I'm so glad we did, as she combines two things I love: business and sports. Read on to see why she wrote a book about the business of college football, and for your own brand and business, how she not only became an expert on this topic after being an attorney for many years, but how she promotes this personal brand effectively (hint: targeting is key!) 
RS: Welcome Kristi! What made you decide to write a book about the business of college football?
KD: In the early days of my sports media career – the ones where I wrote for free for Forbes and anyone who would have me on their blog while simultaneously practicing law full-time – I became fascinated by financial statements for college athletic departments. Math was never my favorite subject, but I found out pretty early on while covering the sports business that numbers can tell a story. And the story I was reading between the lines of athletic department financials was nothing like what I knew about college football from years of being a fan. In early 2011, I wrote a six-part series for SportsMoney on Forbes about the finances of every public school in the six "automatic-qualifying" conferences. Those posts received more views and feedback than any other posts I'd ever written, and I knew something was there. At that time, no one was writing about the business side of college sports on a consistent basis, and fans were becoming interested in what was going on off the field in these athletic departments earning millions from television contracts. Seeing the interest and realizing there was a gap in coverage by the sports media, I began to seek out more stories about the business side of college athletics, particularly football. It wasn't long before I realized all I was learning from my research and visits to college campuses for facilities tours and sit-downs with athletic directors was changing the way I viewed college athletics. I knew not every fan would have that opportunity, so I wrote the book as a way of sharing everything I've learned with fans.
RS: How do you become an expert on a topic like this?
KD: First, I think it helped that I chose a topic where there was a gap in the coverage by traditional media. It's sort of like when you're developing a new product – you want something that fills the white space.
Next, you have to commit 100 percent. I made learning everything I could about the business side of athletic departments, and writing on what I learned, a part-time job in addition to my full-time job that was paying my mortgage and student loans. I started a blog called BusinessofCollegeSports.com so that all my writing on this subject would be in one easy-to-find place. Then I committed to writing on that site every single weekday. Between the launch of the site and the day I quit writing for the site to join ESPN, I posted 133 blogs in 175 days. In fact, I believe one of the reasons I ended up at ESPN was because their college football writers were linking to my blog on a weekly basis. On top of that, I was promoting myself to radio stations around the country as an expert on the matter by sending them blog posts pertinent to their market.
RS: How do you market yourself as an expert?
KD: I think self-promotion comes more naturally for some than others – for better or for worse, it comes pretty naturally to me. That being said, I think anyone can learn how to do it. Most importantly, you have to create something you can show to people to prove you're an expert, whether it's a blog, a book, a podcast – anything that illustrates your knowledge. Then you have to present that knowledge to the right people. This is where I see many young bloggers get off track. They inundate more senior writers on Twitter, LinkedIn and email with every post they write. My strategy was to carefully select who I targeted so as to give myself the best chance of having that person look at my work. For example, if I wrote about the finances of FSU's athletic department, I was going to try and get it in the hands of beat writers who cover FSU and local radio hosts and producers. It didn't make sense to me to send it to a national writer when it's more of a local interest story, or to send it to someone who doesn't cover the team regularly. Obviously getting a national writer to tweet out your story or reference it in his/her own piece is amazing exposure, but you can't just send those people everything you write. Instead, I'd watch for them to write a piece that something of mine tied into – then I'd send them my piece. In the end, I found the most effective way to get other people to help you is to find a way to help them do their job better.
About  Saturday Millionaires: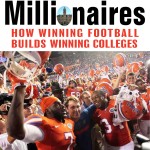 Last year Football Bowl Subdivision college football programs produced over $1 billion in net revenue. Record-breaking television contracts were announced.  Despite the enormous revenue, college football is in upheaval. Schools are accused of throwing their academic mission aside to fund their football teams. The media and fans are beating the drum for athletes to be paid. And the conferences are being radically revised as schools search for TV money. Saturday Millionaires shows that schools are right to fund their football teams first; that athletes will never be paid like employees; how the media skews the financial facts; and why the TV deals are so important. It follows the money to the heart of college football and shows the real game being played, including debunking 6 myths most people have about college football programs, such as: Myth #2: Supporting Football Means Degrading Academics and Myth #5: A Playoff Will Bring Equality to College Football
Check out Kristi's great new book on Amazon or Barnes & Noble (print & digital editions for both). Follow her on Twitter for more insights and news.
Your turn: What area of expertise do you promote in your brand? Why did you choose that area: skill, passion or something else? Please share in the Comments below. Or just let me know your favorite football team you'll be cheering in this fall!