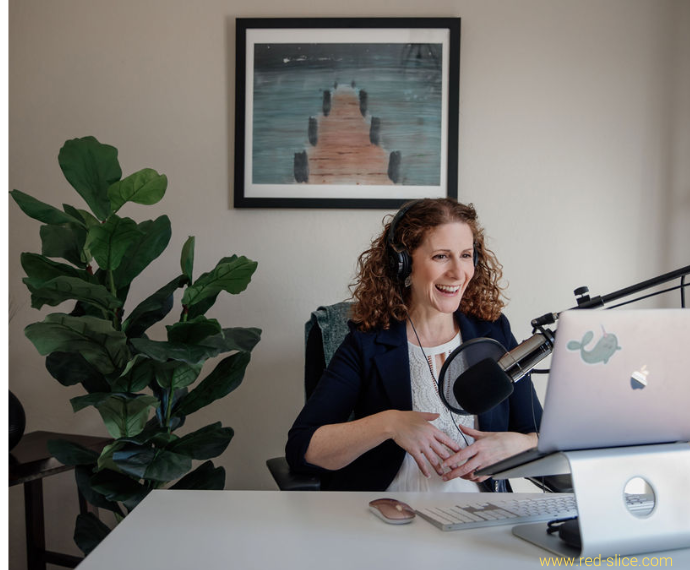 Last week, I hit 100 episodes on The Empathy Edge podcast.. 100 episodes! In that time, I've had the chance to speak with best-selling authors, CEO's, marketing leaders, psychologists, social and emotional learning experts, culture consultants, and DEI champions.
The podcast started in August 2020 as a way to keep my empathy research going. Spending three years writing The Empathy Edge, I immersed myself in the data, stories, and interviews. And then once the book was out, promotion began. And the research stopped.
Suddenly, I didn't see that latest report. The data I was using was outdated. Oh, and a global pandemic changed the way we work and how we interact with each other.
As the topic of empathy became more mainstream and evolved, a podcast seemed like a great excuse to keep interviewing experts – the best part of working on a new book! And you know me – I love to talk about empathy.
A podcast is as much fun and as much work as I thought it'd be. But it's the best kind. And it has taught me many valuable lessons about connection, conversation, and change. (TWEET THIS!)
Five Lessons From 100 Podcast Interviews
And, if you're thinking of starting your own podcast, how this experience can transform you.
Never Go It Alone
When I set out, I knew I didn't want to tackle this alone. What mic do I buy? How do I even list a podcast on Apple? Who will do my production and editing (because that makes me want to poke my eyes out). A friend connected me to a friend, Erica Mills Barnhart, who had her own podcast and she told me about her production team, Turnkey Podcast. I went to them and said, "Please help me make this happen."They immediately put me in a Launch Your Podcast course. I got everything done that needed done and now this dream team edits and produces my podcast every week, just for you.
Learn How to Listen – and Ask on Behalf of Others
Having been on many podcasts before, I knew how to do my spiel. But hosting is another ballgame. You have to learn how to listen. And respond. It's a lot like acting, really. Curiosity was not too hard for me, as I'm fascinated by my guests and their experiences. But I also have to ask the right questions to move the conversation along. I don't like too many podcasts because it annoys me when the hosts ramble on and on about themselves, or don't get the guest to answer the question asked – or the question I have as a listener. I have learned to think even more about my audience and what they would want to know. What do they need? My job is to get that info out of my guest for them.
A Podcast is A Great Way to Meet Amazing People
Forget the awkward LinkedIn connection request: My podcast enables me to reach out to anyone and everyone I find interesting and have a chat! If you are naturally curious like me, this is a wonderful way to build authentic connections. Some of my guests have even become clients, or have hired me as an empathy keynote speaker or empathy workshop leader at internal and customer events.. But that's not why I talk to them. I invite them on because they have something to teach us all. And stories humanize us. The more stories I can help tell, the more I can create more empathy in the world.This is why I'm committed to inviting women, BIPOC, LGBTQIA+ and other underrepresented leaders and experts to my microphone.
Organic Conversation is Authentic Conversation
We have talking points, sure. And prepared questions. But I invite my guests to feel like we are having a casual chat. It's not just rote Q&A. It's interaction. We add to each other. We interrupt each other.. We go off on a tangent if that's the conversation's next logical step. We embrace ad hoc joy for scripted humor. The best compliment I get is when people say they feel like they are sitting with us over coffee! When you do a podcast, yes, prepare, but keep room for organic flow for a much richer experience for both of you – and your listeners.
There are So Many People Working to Make the World a Better Place
I think the most valuable lesson I have learned from 100 interviews is that there is hope. If we seek out the changemakers who are doing hard things, we find that there are thousands, millions of ways people are making a difference. Whether they are a CEO of a social enterprise helping Ethiopian women escape human trafficking, a coach helping women find their own voice, a doctor helping children become more emotionally resilient, a DEI expert helping parents crack open tough conversations about race, a workplace crusader trying to help build cultures where people can thrive at work, a marketing leader using his company's brand to stand up to racial injustice, or a community buidling expert sharing how to make online communities more authentic and connective for mutual benefit…..all of my 100 guests have shown me that you can work toward empathy in ways big and small.
Which one is my favourite? That's like asking me to pick a favourite kid! But I invite you to take a listen and DM me on IG to let me know which one is YOUR favourite!