Guest post today by digital marketing veteran Linda Rubright
If it is any solace to small business owners, bloggers or online entrepreneurial dreamers, please know the big companies are just as confused about SEO as you are. In my 15 years in helping companies from the extremely big ones to the one-person-shop-small-ones the single commonality amongst all in regards to SEO is – confusion – confusion in regards to the best SEO approach, best SEO tools and whose advice to trust – this week.
In all of this I see countless companies and individuals throw their hands up and decide to rely on other online and offline website traffic driving strategies instead of attempting to decipher the seemingly indecipherable SEO world.
But, I would highly encourage you not to do this.
And here is why: regardless of what the SEO industry would like you to think and what their constantly changing often contradictory information may make you think – SEO is not difficult. It is not even close to difficult. There are a few (seven to be exact) easy (I swear) things to do which when you get in the practice of doing can make enormous differences in getting traffic to your site. AND the bonuses of this? It take five minutes to do and from my experience those who do it typically reap great SEO rewards very quickly!
7 Steps on How to Do SEO in Five Minutes:
1. The first step is the most important one and it does not require any tools (hurrah!).
Before writing a new post think about the two or three keyword phrases which most accurately describe what you are going to write.
As an example, let's imagine you are writing a post on the best Mexican restaurants in Denver. The two or three keyword phrases that would perhaps best characterize the content of your post (and would also be realistic terms people would use when looking for great Mexican restaurants in Denver) could be:
"Denver's best Mexican food"
"best Mexican restaurants in Denver"
"top rated Mexican restaurants in Denver."
It is important that you are as specific as possible. You do not want to pick "best restaurants in Denver" for your post because you are then placing yourself in competition with every other post online that discusses the best restaurants in Denver, Mexican or otherwise.
Likewise you do not want to select "best Mexican restaurants" because then you are competing with every post that was ever written about Mexican restaurants (in Denver, Dallas, Dusseldorf and beyond).
However, when you select keyword phrases such as "best Mexican restaurants in Denver" or "top rated Mexican restaurants in Denver" these are keyword phrases which both describe exactly what your post is about and likely reflect phrases people would actually enter in Google, Yahoo and Bing when looking for information on great Mexican restaurants in Denver.
As our keyword phrases are a bit long, we will select two of the three to optimize our post:  "best Mexican restaurants in Denver" and "top rated Mexican restaurants in Denver."
2. Put selected keywords in the headline of your post 
The headline, also sometimes called the H1 in the SEO world, is the actual title of the post. The headline is the first great place to look for opportunities to include your keywords.
A great SEO headline for our piece could be, "The 10 Best Mexican Restaurants in Denver". This is a great choice for a headline because it includes one of our keyword phrases and it let's potential readers easily understand what the post is about. A win-win!

3.  Put your selected keywords in the URL
With most blog and website tools, the URL will default to a version of the title of the post. If you are using Wordpress you can change this default to be able to enter your own specific URL by going to:
Settings > Permalinks > Custom Structure and enter /%category%/%postname%/
URLs are another great place to include your keywords! As we used one of our keyword phrases "best Mexican restaurants in Denver" in our headline we will use our other selected keyword phrase in the URL as follows: www.mywebsite.com/top-rated-mexican-restaurants-in-denver.html. The '-' between each keyword is critical as this indicates to search engines where one word stops and another begins.

4. Get the selected keywords in the content of your blog 
Your keyword phrases should be in approximately 2 to 5 percent of the total content. As an example, if your post is 500 words you should mention your keyword phrases in about 12 or so of these 500 words.
Please note, the keyword phrase "best Mexican restaurants in Denver" is five words. As you already mentioned this keyword phrase in your headline you only have seven more words to include to meet your keyword quota. If you were to mention "top rated Mexican restaurants in Denver" once and perhaps "best Mexican restaurants in Denver" another time somewhere in your post you have more than met your keyword phrase quota!
5.  Name your images with your selected keyword phrases 
Imagery is a great way to make your post appear a bit more interesting (and appetizing). It is also a great way to include selected keyword phrases in your post.
For example, let's say you had a picture of a veggie burrito from one of the mentioned restaurants in your post. Typically this picture's default name would be something like dsc1010.jpg, which does not help in terms of SEO.
However, you could name the photo: veggie-burrito-from-one-of-the-best-mexican-restaurants-in-denver.jpg and this would be a good boost for SEO. It is a bit more work but a great way to help include your keywords in your post, support your SEO efforts and even have a chance for showing up when in image searches!
Further, you can include your keywords in the ALT image text and the caption. The ALT image text is the content that is displayed if the image does not appear due to slow Internet or other technical issues. It is also the text that appears if you rollover the image. Great SEO content for the ALT image tag and the caption could be, "Veggie burrito one of the best Mexican restaurants in Denver." (The ALT Image text and the caption can be the same.)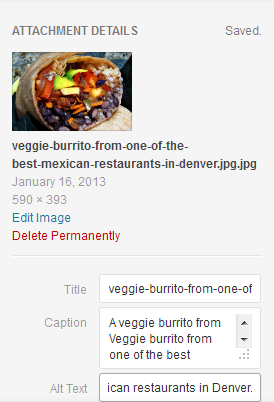 6. Include your selected keywords in your page title 
The page title is the clickable link that shows up in Google searches.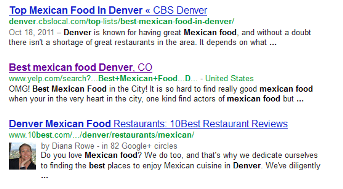 It also shows up at the very top of your post.

The Page Title is considered the most important SEO element and as such it is very important for you to include your selected keyword phrases in it. Using our example you would name your page title:
Top 10 Best Mexican Restaurants in Denver | Top Rated Mexican Restaurants in Denver
Efforts should be given to make each page title approximately 70 characters. Each keyword phrase can be separated by a '|' or a comma.
Many people make the mistake of giving their business name precedence in the page title. Remember, it is very likely that if you Google your business name you will show up on the first page (likely at the very top). SEO is about ranking for keywords you do not rank for; it is not about ranking for keywords in which you already rank, so it is likely not necessary to include your business name in page titles and other SEO data.
If you do not have SEO features (page title, meta description) already built into your post functionality and if you are using Wordpress, I recommend the Yoast SEO plugin.
7.  Add your selected keywords into your meta description
This is the few sentences that appear in search results below the page title which describe the content of the post. It is a great feature to help people understand what your page is about and as such it is a great place to also include your keywords. Meta descriptions should be approximately 140 characters.
A good meta description for this post could be: "Get the local knowledge on the best Mexican restaurants in Denver and see which restaurants in Denver are considered the best by the locals."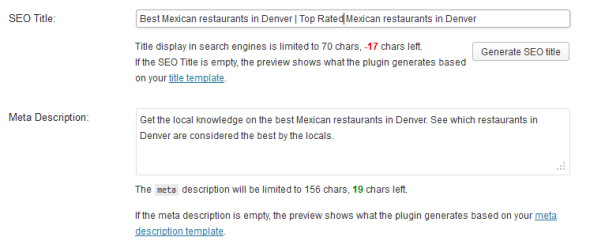 ….

Linda Rubright is a veteran of the digital marketing arena with over 15 years in the space. She has worked with companies from major Fortune 5s  to small start-ups in the US and around the world. She also is the founder of The Delicious Day, a blog on living and working well. She can be reached at linda@thedeliciousday.com.