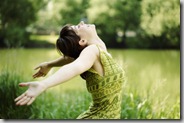 Even when things are serious, it helps to find the humor. It helps us cope, deflates a tense situation, and helps you think more clearly and problem solve than if you were angry, frustrated or sad. Laugher helps you get out of the "red zone" and into a more calm, productive state of mind.
As business owners, things will go wrong.  You may piss off a client or you might not make your sales figures in a given month.  But to diffuse the situation (and save your sanity) you absolutely need to find the humor in the situation.
In the darkest times when I was recovering from brain injury, my friends and family, true to form, found some lighter moments to help them cope.  Some might call it gallows humor, but I'm thankful they banded together and found some light in the dark.
While things may seen earth-shattering in your business, everything can be dealt with in one way or another.  The trick is not to let it break you, but to find your way to put it into perspective. It's amazing what laughing at something that seems insurmountable can do for the psyche.
View the juicy video for Lesson #7  here.
When have you used humor to deflate a tense situation or overcome a setback?
BACKSTORY TO THE SEVEN LESSONS: What do recovering from a  brain aneurysm and branding have in common? Quite a bit, it turns out. Recently, I got the wonderful opportunity to share my dramatic story at a Women Business Owners luncheon and I promised I'd post the lessons here for everyone. This is a seven-post series. You can get your own copy of Rebooting My Brain, my humorous and heartwarming memoir, right here.
Lesson #1: Focus (and backstory to the series)
Lesson #3: Count on Your Tribe