Grab Your Copy Now!
The Empathy Edge
Furious customers? Missed deadlines? Failed products? The problems your business faces may stem from a single issue:
Lack of empathy.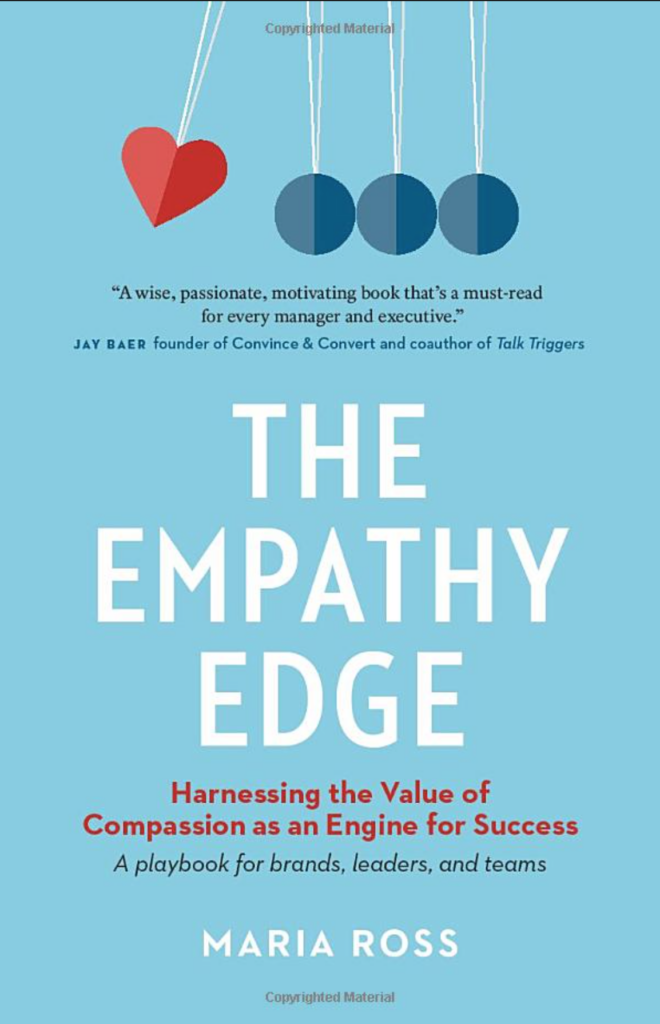 Being empathetic at work means seeing the situation from another's perspective, and using that vantage point to shape your leadership style, workplace culture, and branding strategy. Pairing her knowledge as a branding expert with proven research and fascinating stories from executives, change-makers and community leaders, Maria Ross reveals exactly how empathy makes brands and organizations stronger and more successful.
Ross shows why your business needs to cultivate more empathy now, and shares the habits and traits of empathetic leaders who foster more productivity and loyalty.
She gives practical tips, big and small, for how to align your mission and values and hire the right people, cultivating a more empathetic—and innovative—workplace culture. Finally, she gives you the goods on building your empathetic brand in an authentic and proactive way, and shows how doing so results in happier customers, innovative work cultures and increased profits.
In this practical playbook for businesses of all types, Maria Ross proves that empathy is not just good for society—it's great for business, and may transform you at a personal level, too.
Buy your copy of The Empathy Edge below – or sign up below to get the First Chapter FREE today!
Grab The Empathy Edge in print or audiobook from Amazon, and in print from BN.com, and Porchlight (formerly CEO READ) for great bulk order discounts.
Client gifts? Employee perks? Thank you gifts? #JustSayin
Want a taste? Sign up below to get the First Chapter FREE!
The Empathy Edge Podcast is here!
Praise for The Empathy Edge
In today's crowded and noisy marketplace, humanity wins. Maria Ross' compelling new book shows – through research, case studies, and practical advice – how compassion and cultivating an empathetic mindset can help leaders and brands stand out.
Today, the products and services of Company A and Company B are often engineered and optimized until they are indistinguishable. But one differentiator remains: empathy. This is a wise, passionate, motivating book that's a must-read for every manager and executive.
Maria Ross shares hard-won lessons about the power of empathy from her experiences in the healthcare system and her years as a brand strategist to some of the top brands in the world to empower leaders and businesses of all kinds to treat their stakeholders with the compassion and care required to build customers for life. She provides practical steps for any organization to shift their cultural mindset in ways that will not only increase their productivity, retention and financial success, but also improve their personal interactions, too. This book is exactly what we need right now to ensure our world is a lot more livable for all of us.
In the new world where top talent seeks not just a paycheck, but purpose and fulfillment at work, Maria Ross shows us that empathy is the foundation of thriving careers and cultures. Those organizations that figure it out will be the ones that succeed in the new economy and those that don't will be increasingly irrelevant – losing talent, productivity, and market demand. This book goes beyond theory to lay out specific actions leaders can take to build the brands and cultures of the future.
The workplace is now more diverse than ever before. Building a stronger culture starts by relating to each other, regardless of background, age or life experience. Maria Ross shows that empathy can be your super-power if you want to achieve your goals. She gives you solid tips to help you build your emotional intelligence, and harness the power of diverse perspectives if you want your organization to thrive.
Ross's insightful book couldn't have come at a better time. She shows why empathy is an intangible good that customers will happily pay for. The Empathy Edge is a wave worth riding.
Want to learn more about The Empathy Edge or bring me in to your organization or conference to speak on the topic? Contact me with your questions.
Or check out this handy info sheet on what I can bring to your next conference, team meeting or Employee Resource Group.
How You Can Help
Do you want to be part of this organizational transformation to make our work – and our world – more empathetic? Here are a few ways to help get the book to people who could benefit from reading it.
Buy the book. Seriously, that's the most helpful first step. Buy one for yourself, or order in bulk for your team, business association or entrepreneur group. PS: The book makes a great client and customer gift. Just sayin'! You can do so at Amazon, Porchlight or BN.com.
Review the book: Online reviews really help raise the book's profile on online retailers, as well as put it on interested people's radar. If you are committed to changing the rules about how business gets done, please post an online review. Thank you.
Share the book. If you enjoyed it, tell someone else…or lots of someone elses. It doesn't matter if it's a friend or your entire mailing list, it all helps and you'll have my eternal thanks. Please tag the book as #empathyedge on any social platform, so I can thank you and follow along.
Connect the book to influencers/media. If you have direct contact with a media outlet, influencer, podcast host, publication, etc—I'd be so grateful for an introduction.
If you can think of or want to help in other ways, like hosting a book event, making an intro or bringing me in to speak, please contact me now and let's make magic together!
If you've read this far, you're good people. THANK YOU for making the world more empathetic, compassionate and kind.