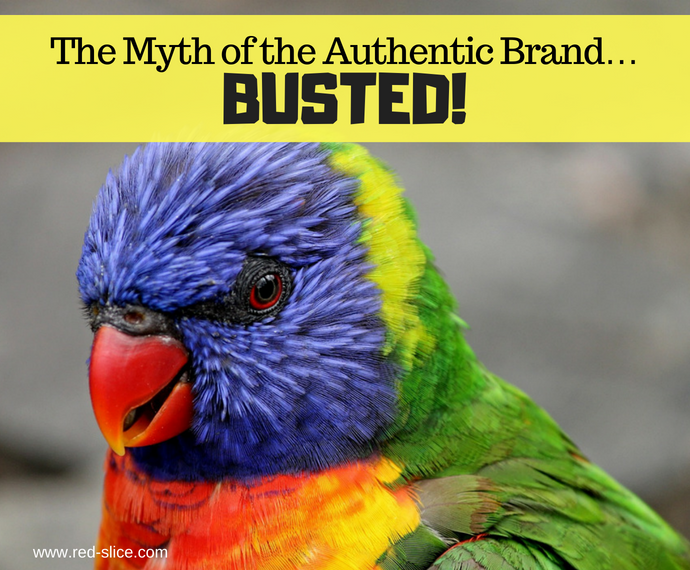 Be authentic. Have an authentic brand. I want to be seen as authentic.
Everyone's all about "authenticity" these days. Which really hasn't changed all that much since I first blogged about this in 2011. And yet, marketers and entrepreneurs are still fretting out about it.
It's time to bust this myth of authentic branding, once and for all.
Authentic is not something you can BE. It is a way of being that is unique to whatever you already are, what you deliver or how you serve people.
Trying to be "authentic" is like trying to "be original." An original what? Authentic to what? How does this show up in the world?
When experts advise you to be authentic, all they are really saying is to be who you are.  Play to your true strengths. Don't try to slap on "coat of brand paint," as I like to say. This is the very reason why your brand must be lived from the inside out.
Some confuse authenticity with transparency, or homemade, or natural. If that is who your brand and business really are, then, yes. You are being authentic if you convey that vibe. But if you are truly a loud, obnoxious and rabble-rouser, your brand can convey those traits and "authentically" be that, too.
All authentic really means is that you walk your talk and deliver what you promise.(TWEET THIS!)
It's not an "end state" to aspire to, it's a way of being what you already are and showing that to your audience. Period.
What I believe entrepreneurs and marketers often mean when they say they desire an "authentic" brand is that they want to be seen as down-to-earth, conversational, approachable, open or direct. If so, then use those attributes. Don't say authentic. It should be a given that your brand walks its talk.
You can be an elite, exclusive, downright snobby brand and, if that's truly what your organization delivers and what you convey in all of your messaging and design, then it is an authentic brand as well.
And please don't take things too far! Being authentic is also not the same as having no filter. It's not an excuse to forget about your audience's needs and what would be valuable for them. Personally, I don't find an Instagram feed full of what a thought leader ate for breakfast "authentic." To me, that's just egotistical. If, however, showing me the "behind the scenes" glimpses offers value, then great. Share the story, lesson, or failure so I can learn something. Heck, make me laugh or inspire me. That's adding value, too. Be real…as long as it's genuine to who you are AND in service to the promise you made your audience.
Authenticity is not a state to be achieved that means one thing. Authentic is a qualifier: Your brand is authentically….what?