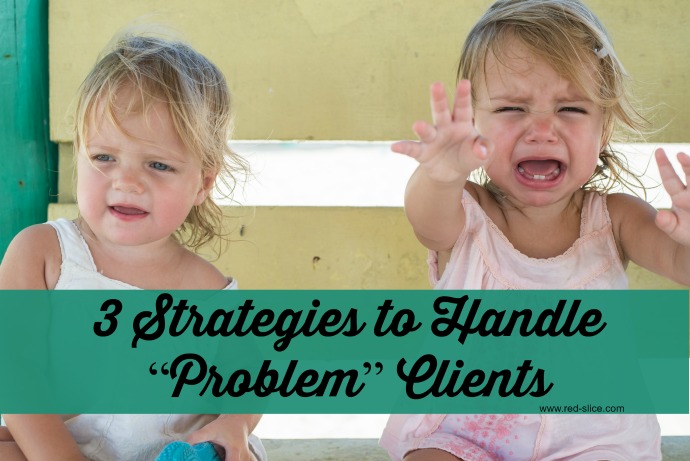 My two-year old son is my heart, my joy and my life.
His can also be a pain in the butt.
A friend once said that dealing with toddlers is like dealing with drunk people. They can be the happiest, most joyful people one minute and turn into a nasty, crying, incoherent mess the next. Sounds about right.
I've seen some parallels between toddler behavior and challenging clients. And I realized that some of the coping strategies we use with my son are actually pretty good tips for working with a "problem child" client or customer. (TWEET THIS!)
Here are three reasons why challenging clients or customers can behave like toddlers – and what you can do about it. And, PS, these apply to both product and service businesses:
They don't respect boundaries – because boundaries were never set: My tussles with my son are often because he simply does not know where the line is. If you've never tried dive-bombing off the couch onto hardwood floor before, you would also be surprised if all of the sudden you ended up in Time Out. It's my responsibility to set clear boundaries of what is and is not okay.
Same holds true with your clients or customers. They can't read your mind.
What you can do:
Draft a clear contract that outlines exactly what you will deliver and what is not included. If a particular clause or section needs their attention (no refunds, payment plans, etc.) make them initial that section.
Set boundaries on when you are reachable and how to best get in touch with you (email, mobile phone, not on weekends, etc.)
Firmly but kindly say "no" when asked to do something out of scope, or better yet, refer them to someone who can help them.
Post simple-to-understand (and easy to find) policies on your website, in your store or on your sales page so there are no surprises.
They make irrational demands: My toddler has requested, at one time or another, to run around with a sharp knife, play outside right before bedtime, or that I make him something and then, once made, he refuses to eat it. These demands are maddening. The tantrums that follow even more so.
Certain clients or customers ask for the sun, moon and stars, make wacky requests or behave irrationally, which could result in emotional meltdowns that would even impress my toddler (Yes, a client has yelled at me and my team before. He was not a client for long!)
What you can do:
Set clear boundaries upfront: See above.
Acknowledge the request: "I can see that your boss is demanding the work earlier than expected. You're trying to see if we can move up the timeline we agreed to upfront and still include everything you asked for, correct?"
Empathize and mirror their concern. Only then will they be receptive to what you have to say next: "That's a rough spot for you to be in! I can see why you're so frustrated."
Get to the root of the demand and offer an alternative, if you can. "Can you share what's causing this issue and maybe we can find another solution?" Or, "We can try to deliver that to you ahead of time, but then your final deliverable will not include x, y and z. Are you okay with that?"
If there is no alternative other than an outright "No", offer a referral or resource. "I really want you to get the help you need, and unfortunately, I don't do that type of work. May I recommend so-and-so?"
These ideas work even if you have a product or retail business. Acknowledge, empathize, find alternate solutions or refer them out.
They don't listen: No matter how many times I ask him to not do something, my son sometimes never learns. "I'm telling you that if you put your hand on that pot you will burn yourself. NO TOUCH!" And he slowly stares me down as he stretches his hand toward the forbidden item, as if to say, "Are you watching?!"
Clients and customers always have the final say. It's their money. But it can be hard, especially for services professionals, when some clients refuse to listen, things go sideways and then they might blame you. It's sort of like talking to my two-year old: "I TOLD you not to touch the stove and you did it anyway!"
What you can do:
Back up your recommendations with data, a similar experience or a recent article.
Share both the upsides and downsides of all options to show you've considered everything.
Gently remind them they are paying you for your expertise, not to "yes" them to death (unless they are….?) or lead them to failure. It's your responsibility to at least voice concerns by making a clear and professional case – but don't harp on this if they continue to say no. In the end, it is their money and decision.
If they still won't listen, document your recommendations in email or more formally. You can even say, "We are committed to helping you move forward, however, we'd like to officially document our concerns one last time." Trust me on this.
If this is not a path you can morally, ethically or intellectually get behind, break ties. Do so gracefully by focusing on their needs and what would be the best value for them. Offer a refund only if that's appropriate.
Now…..hang on……here's your WHIPLASH moment:
Are YOU a "problem child" for someone else, or are you a good client or customer? Think about your web designer, copywriter or social media strategist. Hmmm…..well, um…yikes.
If you want to make sure you're being a good client to your own vendors and consultants, here's a FREE GUIDE I made for you: How to Play Nice with Consultants. Enjoy!
Image Credit via Flickr