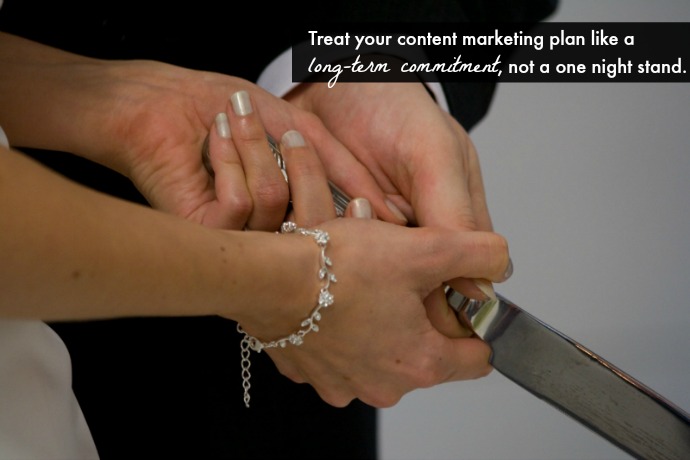 You're a one-person business owner and you need to be 500 places at once. You're the accountant, the website admin, the account manager, the marketer, the janitor, IT, and – lest we forget – the person who actually has to do the work your business provides.
Given all of these demands on your time and budget, does the mere mention of "content marketing" make you want to curl up in a ball and sob?
Let's take a deep breath and exhale together. I'm going to share my journey with you.
Even though I'm a writer and marketing addict, content marketing almost destroyed me.
"Whaaaaaat?! But Maria, you manage to blog almost every week! You, like, live on social media."
Yes. And this is how my breakdown started. And why I'm making changes. And why I want to help you do the same.
I recently told my entire audience that I was retrenching to work on my content plan.
Creating content brings me joy so I'm going to stop treating it like a one-night stand and make it a long-term commitment. (Tweet This!)
So I took a step back and have been working away, my friend. Seeking counsel from others. Spending time in coffee shops thinking about you and what you need. Marrying that with topics I'm passionate about and thinking about how to structure things.
Not sure what content you need to create for your audience or how to create a solid plan? Here is an 11-step plan to determine your content strategy. You should know I am following each and every one of these steps myself right now so I feel you:
Determine Your Goals: Before you create a stich of content, what is your goal with it? Are you trying to walk prospects down the sales funnel? If so, you might need to create 2 or 3 pieces of content to get them hooked. Do you simply want folks to sign up for your email list? Then you'll need some sort of opt-in freebie or guide. Do you want a regular weekly audience on a global basis and to interview various experts? Perhaps podcasting is the way to go? What are your goals? There is no one right answer for WHAT to create, but the answer gets a lot clearer if you know WHY you need it.
Revisit Your Ideal Customer/Client Profiles: Remember all those times I've told you how creating ideal customer profiles is the single most important part of your brand strategy? Here's Reason #972 as to why. To create the right content, you need to know your audience. What do they need, want, desire, fear, worry about? What type of info do they like to consume? What are their lives like? So dust off those ideal client profiles and update them or flesh them out if need be.
Start With Your Wheelhouse: Good, now you know who you're talking to. Before we dive into the format of your content, let's focus on the content topics. You want to cover topics around your area of expertise and what your business provides. Sounds simple, right? But you have to be organized about it. Write down every topic associated you do for people and all associated areas that it touches. Are you an accountant? Those topics would be money management, bookkeeping, tax tips, expense tracking, budgeting, record-keeping. Are you a life coach for women? That would be work/life balance, love, relationships, goal setting, stress management. You get the idea.
Layer in Your Joy: Which topics do you enjoy talking or writing about? Download all the things you love. Now, compare your lists and see if there is any overlap. Can you talk about website design AND wine? Graphic design AND dogs? Career advice and Walking Dead? If you can find ways to weave these passions into your content, you will enjoy creating it more – and people will enjoy engaging with it more.
Bucket Your Topics: I'm going through this exercise right now. Of your laundry list, are any of the topics related? Can they be grouped together or do they overlap? I have advised many clients on this approach but it wasn't until I consulted with and took a course recently with social marketing expert Amy Schmittauer of Savvy Sexy Social that I finally did this exercise for myself. We are indeed our own worst clients, aren't we? Create your "channels" or categories or magazine columns or whatever analogy resonates with you to organize this vast list.
Ask Your Tribe: Yes, you will actually have to ask your target community what they would like to hear from you before you go out, guns blazing. Revolutionary, isn't it? I recently sent a dedicated email to my list asking them to tell me their biggest challenges, obstacles or pain points and I have now turned those responses into a list of content ideas (of which, this post is one!) If you don't have a huge list, ask former clients or customers or simply contacts that fit your ideal customer profile.
Brainstorm Content Vehicles: Now that you have an idea of your topics and "buckets" you can spend a dreamy afternoon thinking about how to package these up. Do you like blogging? Maybe they are a year's worth of blog posts. Do some topics lend themselves to demos or lengthy explanations? Make those videos. Are some topics so rich you could write a short eBook or create an ongoing podcast? Don't think of vehicles that are absolutely painful for you to create – you will never do them. If quick visuals or tweets are your things, then maybe you just create Instagram-worthy images with captions around each topic or craft short tweets on each topic. At this point, you could also ask your audience again how they prefer to consume information, but I bet you'll get a thousand different answers so may as well stick to what you enjoy creating!
Create Your Calendar: This is the part I struggle with, to be honest with you. I try to make pretty little calendars only to go off-road as soon as my attention wanders. I'm like a dog that sees a squirrel. But it's a place to start, right? Look out 6 months (or 3 if that's less scary) and plot out what you can talk about when. This will save you time and energy when you're not sure what to create or are staring at a blank page. Be ruthlessly realistic here. Don't say you'll blog or create a video every day if you won't. What does a realistic schedule look like for your life and sanity?
Make Space to Create: Of course you need to allot time to create all this great content so be realistic. That first video won't go live tomorrow. So map the efforts into your personal calendar. And then schedule meeting on your calendar for when you will write/record/design – whatever. Not just 15 minutes but 2 to 3 hours worth of dedicated time each week if that's what you need.
Gather Your Resources + Outsource: I'm a good writer, but not a designer. If I want to create eBooks, I need to partner with a cool designer. So think ahead about who can help you create each of these content pieces. Do you have a VA who can upload and format your finished blog posts and find a good image to go with each of them? Can you pre-schedule Tweets or posts with Buffer? Do you know a good designer who can help you with all ten of the eBooks or free guides you want to create? Have you priced out a videographer for your video series (or are you simply planning to use your iPhone and send it to an editor – or DIY). Consider all of these once you determine your content plan, get everything lined up and then you can just press play and start cranking out content. Turn to resources like the ones I blogged about last week!
CREATE! Start at the beginning and work your way down. Time to start doing. See your list from #10 above and start assigning out work – to yourself if appropriate or to one of the resources you've gathered. If you need to write raw content, can you hire a copywriter to polish your rough drafts? Can you get an intern to write the social media posts? Can someone else conduct the expert interviews for you?
Ready to plan for and create all that killer content without losing your mind? Make sure you're on the Red Slice email list down below to find out the next time I'm offering  Bring Sexy Back to Your Blog, In this on-day virtual course, we talk about how to bring sexy back to all your content, not just blogging and you'll leave with an actual plan and sample content piece, plus tons of feedback from me and others.
Image Credit: Matt Biddulph via Flickr