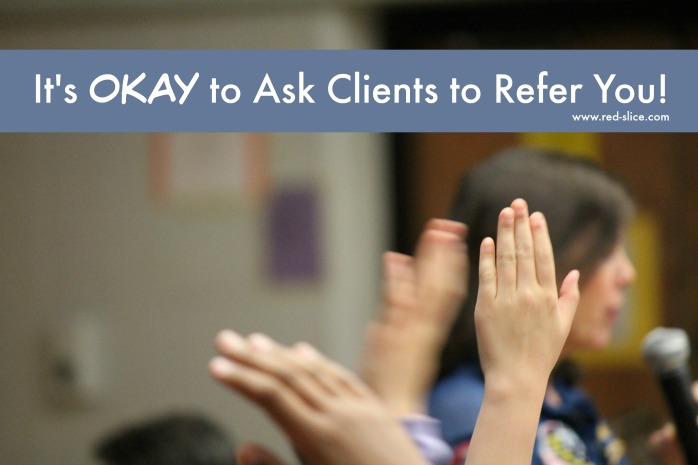 Sitting in a coffee shop, I overheard two professional photographers comparing marketing notes.
They talked about pricing, contracts, packaging and how to create additional service offerings for new target markets. One seemed to be coaching the other based on his success, which was cool to see. It was lovely to see such mentoring and collaboration.
But this exchange stopped me in my eavesdropping tracks:
Him: You need to ask your past or current clients to refer business to you. This is how you generate word-of-mouth.
Her: Really? Just "ask them?" I thought word-of-mouth meant that you just do good work for people and hope they recommend you. I didn't know I could ask them to refer me.
Him: If you deliver value for people, they will want to refer you! It's your obligation to share the good work you do with people who need it.
"I didn't know I could ask them to refer me."
We are sometimes so afraid of the word "sales" that we deem any request for business as pushy, slimy or in-your-face.
Being "pushy" is an attitude, a tone of voice. It's not the act of asking that's pushy. It's how you do it.
If you deliver honest work that gives great value to your clients or customers, then this guy is right: you have an obligation to ensure others who need what you've got can find you.
Don't rest referral responsibility solely on the shoulders of your clients' goodwill. We all mean well, but we get busy. We forget. We don't post that stunning Yelp review or think about how your services might be perfect for a friend of ours.
Sometimes, you have to ask. Lovingly. Kindly. Confidently. (Tweet this!)
Here's one way to ask a client for a referral at the end of an engagement:
"I'm so glad you're happy with my work. It's been great working with you, and I'm looking to help more clients just like you achieve results. If you have any friends or colleagues who could benefit from my work, could you please send them my way? If they end up becoming a client, I'd love to offer you a (discount/gift card/free session) as a thank you!"
One way to ask a colleague for a referral:
"Our services are really complementary and I noticed that those who work with you first get a lot more out of our work together . If you're game, would you like to refer more clients my way (and vice versa) and perhaps we can do a 10% referral commission together?
One way to ask an existing customer for a referral:
"We love that you dig our style! We noticed you buy gifts and accessories from us every month and we wanted to say thank you. If you'd like to share the secrets of your gift-giving superpowers with friends or family, please send them our way with this code xxxxx. If they end up loving us as much as you do and spend $100 or more, we'll reward you with 25% off your next purchase plus a free bonus gift. On us!
None of us can grow our business alone. Don't be afraid to ask. Especially from those who already know the caliber of your work.
What will you do today to get your happy clients or customers to refer you? Book a 90-minute Brand Booster session with me and let's figure out a gameplan!
Image via Flickr