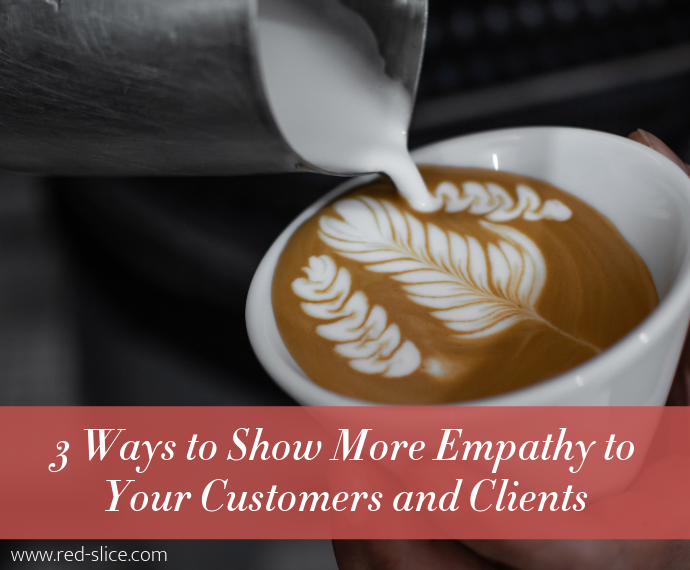 Empathy is not just a woo woo concept. My new book, The Empathy Edge, explores the very practical, bottom-line impacts of having an empathy mindset.
The book is for big organizations…and, yes, for solopreneurs. My research found that this ripple effect and the associated benefits achieved by adopting an empathy mindset as part of your business strategy are not just for brands that have a lot of time, money and resources to throw at it. In fact, solopreneurs have a huge advantage when it comes to building a brand known for empathy, compassion, and caring.
Just as I showed in my book Branding Basics for Small Business, when you are the chief cook and bottle washer of your own organization (or even just have a staff of 10), your distinct advantage is that you are so close to customers or clients. You interact with them daily. Use this nimbleness and proximity to your advantage!
For the book, I had the pleasure of connecting with writing teacher Alexandra Franzen. Alex has been a long-time friend and colleague, partnering with me for clients early on, and then helping me with my own brand copy. I adore her. She has tends of thousands of email subscribers, but she manages to make each and every one feel like the email was written just for them.
Alex's success has been phenomenal. She sells out writing course and books up clients six months in advance, with a waiting list. Clearly her strategy is working for her. So of course, I interviewed her for the book to ask her how the heck she does it. And I was surprised (and delighted) to see that what she does for her clients is exactly aligned with what a large national pet pharmacy does for theirs. it's so simple, but so overlooked and seemingly hard to do:
Offer a personal touch.
It's the secret to driving more sales. When your customers feel understood, when they feel like you "get them," they are more likely to know, like, trust – and yes, buy from – you.
"I do think there's a correlation between sales and empathy," says Alex. "Every customer at the end of the day wants to know 'You see me and you get me.'"
(TWEET THIS!
)
Here are 3 ideas Alex shares for offering a personal touch and showing more empathy to your tribe:

1. Treat everyone in your community like a person.
Stop trying to just collect email addresses like baseball cards (do people still do that?!) Appreciate those fans who have already raised their hands to be with you. Respond as you can. Alexandra says, "People write back to share their thoughts and feelings or just say thanks. While it's not always possible, I try, to the best of my ability, to write a personal response to everyone. Even if it's just to say, 'I appreciate you enjoying my work,' I try to treat every single person in my community as a person." Need some ideas for how to love on your people better? Check this out.
2. Carve out time to proactively check in.
Set aside 15 minutes on your calendar each week to check in with past clients, surprise some email subscribers, or reach out to call a partner you haven't heard from in a while. I like to do this to welcome new subscribers to my community and get to know them a little better. It doesn't take a lot of time or effort but can reap huge rewards. People remember. They talk about it to others. They appreciate you. Alex might simply check in on an important deadline she knows is coming up or reference a challenge they might be facing. Imagine how you can delight someone with just 15 minutes of your weekly time to stop thinking of yourself and think of them!
3. Be thoughtful and customize experiences.
Alex's signature writing retreats are an experience you never forget (and have only gotten more customized and luxe over the years!) She will handwrite welcome notes and select thoughtful thank you gifts that reflect each person. While she does these things to put more love and kindness out into the world, they have also helped her grow her business. Almost half of her clients put down deposits on the next retreat before leaving the last one. What personal touches can you do with your own clients to show them you know them, and that you care?
Intrigued to learn how other businesses are adopting empathy to better connect with customers and grow their business at the same time? You will L-O-V-E hearing more from Alex and other leaders (including big brands) in The Empathy Edge. Check it out!