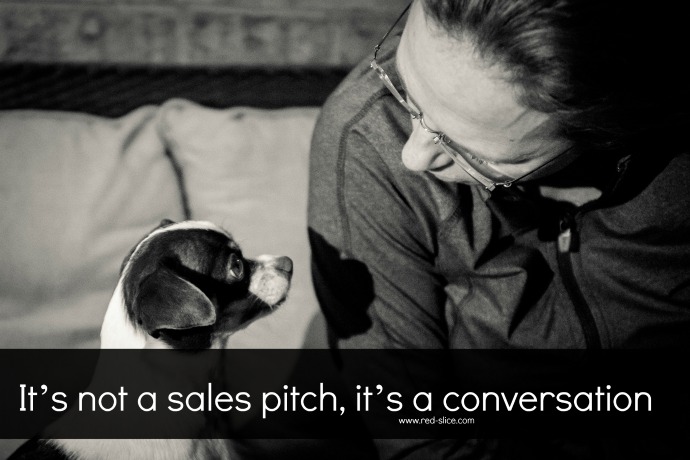 If you're like most entrepreneurs, you love being creative, dynamic, bold, innovative.
But there is one thing that you probably hate with the white-hot passion of a thousand suns:
SELLING
Which is unfortunate, seeing as how that generates revenue. Women business owners especially struggle with what they perceive to be "annoying", "slimy" or "sleazy."  We see those kinds of pitches every day.
And so we think, "I hate sales. I hate talking about myself."
Well, good. Because it's not about you. It's about them.
See, the best sales pitches are conversations.  Listen and engage so you can show them how your offerings solve their problems or help them achieve their goals.
I've been in business for over nine years. I've never once had to "pitch" a client. I've lost out on proposals, sure, but I've never had to do a "sales" presentation.
Always, they are conversations. (Tweet this!)
Pushy salespeople are the ones who are all about their own agenda: Take my business card! Buy my product! Here's why I'm so great."
Here are four tips to sell without "selling:"
Be consultative: Stop pitching and just discuss their goals. Be generous with guidance, resources or connections. Don't work for free, but offer simple "teaser" advice. Believe me, if they see value, they will pay you for it.
Ask questions: Like a good date, don't just brag about yourself the whole time. Find out about them. What are they struggling with? What do they value? You can then organically sprinkle your value and experience into the conversation.
Show empathy: Put yourself in the customer's shoes, addressing their pains and offering solutions. A past Harvard research study found that "empathy" was the #1 trait for a successful salesperson.
Network: I can see you rolling your eyes from here! Get out there and network with people, either in-person or online. Let others see you and get to know your value without ever making a sales pitch. Make connections. You never know who knows who. Warm introductions are always the best (and easiest) sales opportunities.
Here's the cold, hard truth: You have to clearly confidently talk about the value you provide at some point. Why?
If you are not your own biggest fan…if you don't believe in the value of your goods and services, why should you expect your prospective clients to care or get excited either?
Image credit via Flickr