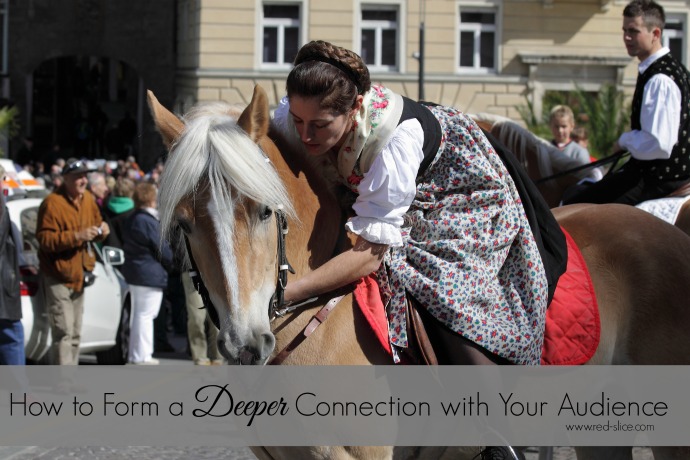 We all want those customers who adore us, right? Like superstar singers or best-selling authors, we want groupies who can't wait for our next album to drop or our next book to hit the shelves.
We see people like Beyonce or Elizabeth Gilbert and we think, "Wow! They have millions of people who can't wait to learn from them and buy from them! I want that!"
But we forget about the audience we already have in our midst. The quiet, studious ones in the front row who've been with us since the beginning, supporting our work and telling people about it.
It's not always about "getting more." It's about loving the ones you've got. (TWEET THIS!) 
Wherever you are, whatever your follower numbers or subscribe rates: START WHERE YOU ARE. Focus on making those loyal people happy. Delight them, Connect with them.
How? Show empathy.
Imagine if all your best friend talked about was finding new friends to hang out with. You'd be pretty annoyed and little hurt, wouldn't you? Yet when businesses are constantly about their "list size" or low Instagram follower number , they're not focused on providing quality to their existing fan base. Those people should feel like VIPs.
Instead of a constant focus on attracting new people, listen to the ones you've already got. Here are 4 ways you can show them the empathy and love they deserve:
Listen to them. REALLY listen: Ask them what they want and need. Stop guessing!  And don't put words in their mouths to suit your own needs. Mirror their exact words and emotions back to them. If you sense that what they really want is actually hidden underneath that "ask," probe further. If you spend time and money shaping your offerings to truly solve your current tribe's pain this will be much better than constantly chasing new fans.
Be clear and offer the right solution to the right people: As I always say, marketing is not about lying to people. It's about amplifying the truth so the right people who need what you've got can find you. Don't push circles on people who really need squares!  If you sell a high-priced mastermind program that's roughly the cost of a tiny house, don't try to convince the dreamer who's eating ramen every night and already in massive debt to bury themselves deeper. That's not cool. Don't be afraid to clarify your message so it reaches the right people …or simply change your target market altogether.
Woo them: No one wants to be "sold to." People want to be seen, heard and respected. And they want time to get to know you. Put yourself in their shoes: Do YOU like in-your-face sales pitches and hype-filled promises? Prove your value with insightful content. Be generous with resources and connections. Be consistent and keep your word. Surprise them on occasion with playlists, free trainings or a special thank you! Go for the lasting marriage not the lustful affair.
See the person, not the number: Especially when things go wrong. Treat your existing customers and fans like you would a friend.  Robotic responses and canned apologies are not the way you'd comfort a pal, right?
Focus on delighting, engaging and celebrating the tribe you already have. By putting your focus there, the growth will follow because they won't be able to stop talking about you!