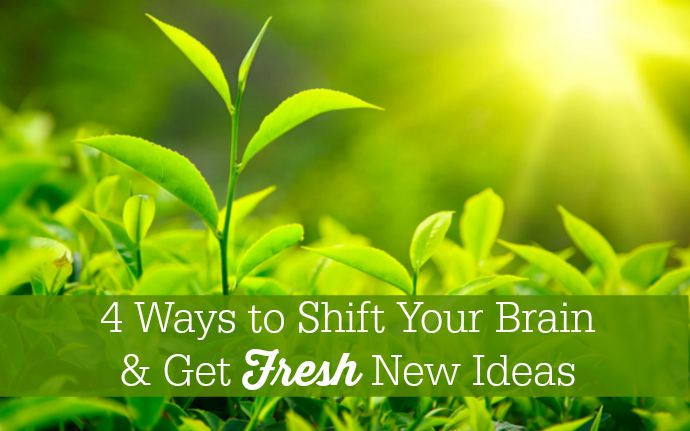 Apple challenged us many years ago to "Think Different." But are you stuck in a mindset rut? Sometimes this can happen when we focus solely on our role, business or even industry.
You're networking with people who do what you do. You go to the same places. You read the same books. You're looking at what everyone else in your industry is doing – and it all looks the same. It's no surprise that when you surround yourself with sameness, you'll naturally fall into a creative void.
But there's a way to shake things up.
Change your habits, experience new things & watch the ideas flow. (Tweet this!)
For many years, I was a management consultant, working with Fortune 500 companies. Then I worked as a consumer-focused Marketing Manager for Discovery Networks. Then I became an Account Manager for an ad agency, and finally did an 8-year tour of duty in the dot.com and Silicon Valley tech scene before launching my business.
Bouncing from process design to event planning, from B2C to B2B, from communication planning to PR, from agency to client …these experiences ended up creating my biggest secret weapons. I see the whole picture. I connect dots and articulate themes that others can't see. I can now take the best of what I've seen in one industry or business model and apply it to another to turn things upside down. The humor and fun I learned while marketing consumer networks like Animal Planet and The Discovery Channel? I applied that kind of human voice and vibe to B2B tech marketing to great success. The sales process and lead generation best practices I honed as a technology Marketing Director? My smallest entrepreneurial clients love that insight to not only build their brand, but to structure their pipeline and business development.
Even being an actress has added dimension to my current work. I'm able to tell stories, evoke emotion and create drama for my clients' brand strategies and messaging. And of course, that skill enables me to light up a conference stage and delight an audience.
If you're bored with your approach, tired of how "we've always done things around here" and new ideas just aren't coming to you, sounds like you need to shake things up. Here are 4 ways you can shift your thinking and generate creative business ideas – not to mention contribute to your mental well-being:
Ditch the bedside business books: When my nightstand is piled high with business or management books, I find I'm less creative and imaginative. Not that they don't have their place for learning important strategies (ahem…I know of a really good one on how to build your brand….), but try something completely different. Light up sleepy parts of your brain, perhaps with a memoir, historical non-fiction, dramatic fiction, moody detective novels…hell, even a juicy romance novel.* Point is, you've got to exercise all parts of your brain and imagination in order to come up with fresh ideas. And movies count, too: You may just find your next brilliant business tip or sexy new marketing promotion from a spy thriller.
Immerse yourself in the arts: In 2013, I took a 5 week sabbatical to attend an exclusive acting intensive through San Francisco's famed America Conservatory Theater. From 9 am to 6 pm – and even later at times – I sat on the floor and took notes from acting masters (on real paper!). Created art with my body during movement classes. Tapped into the raw, true voice that emanates from my gut, not my head. Let go of self-consciousness during improv. Tested my strength and agility in combat fighting. When I returned to work, I was exhilarated and approached my clients' work with fresh eyes. Creativity poured out of me and I never felt more alive. Being in plays or doing short films has the same effect for me: I am surrounded by people who think, act and express in ways that folks in my "regular" works never would and it energizes me. Instead of going to your next networking event, go see a play with a friend. Make a date to wander around your local art gallery on a Sunday afternoon. Take an improv class. Sign up for a pottery workshop. Flex your artsy muscle and expose yourself to a radically different world outside of your "business box."
For the love of Pete…UNPLUG!: Guilty. I admit it. I'm never without my phone within 1 foot of my body and panic if I can't find it. My husband says my tombstone epitaph should be, "Where's my phone?" because I ask it about 100 times a day. But seriously, guys. It's time for a Digital Detox. Let's stop crossing the street glued to our phones. Let's step away from the laptop for a day (a week, a month…) Look up. Open your eyes. Connect to others around you at the coffee shop or grocery store. When was the last time you people-watched at the airport and invented fun back-stories for the strangers who pass by? Do you want to get new ideas? Then you have to experience life, connection and reality. Start with one afternoon you designate as "tech-free" and see where it takes you.
Move your body: My good friend, Melody Biringer, Founder and CEO of CRAVE and a serial entrepreneur, swears by "business meeting walks." This was one of my favorite ways to connect with her. Walking miles, we'd work out business challenges and come up with brilliant new ideas. I always had a fresh perspective on my work after our walks together. Go for a hike. Take your dog for a walk. Swim, Bike. Dance. Do yoga. When you move your body, you give you mind the break it needs to generate new ideas later. I make time every week to go to Crossfit and spend mental energy focused on my strength and agility. Start with a 15-minute mid-morning walk every day, regardless of where you work (I'm sure you can walk the halls or around the parking lot if it's not the nicest setting). Shut the door on the boring conference room and take your next one-on-one meeting on the road as a stroll in the park or downtown.
What about you? What shakes up your thinking and enables you to come up with fresh new ideas for your business? Please share in the Comments. Or let us know which one of these tips you're going to follow ASAP!
*In full disclosure, some links may be Amazon affiliate links where commissions are paid. But that's a win-win if you decide to check out these great reads!
Image Credit: Wilerson S Andrade via Flickr