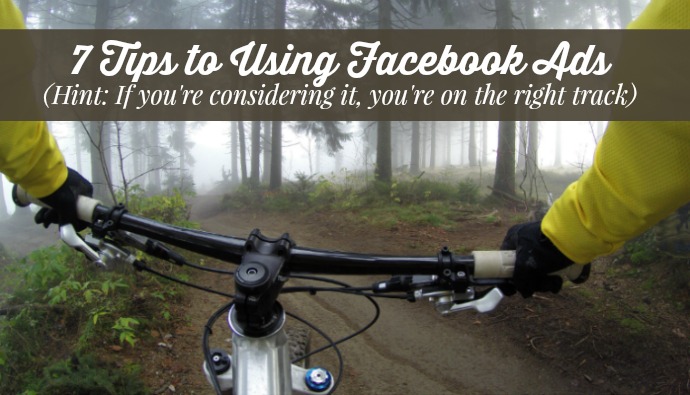 Have you ever tried Facebook ads to boost your brand and business? I have, to varying degrees of success. But it wasn't until I worked with Tammy Martin of Martin Marketing that I realized all the cool stuff you can (and should) do that I didn't even know existed. There is truly and art and science to the whole thing, so enjoy her guest post today with 7 tips to make Facebook ads work for you.
If you've been thinking about Facebook advertising, you're on the right track. It is very hot right now and it is financial accessible to lots of businesses. Below are 7 suggestions to create Facebook ads that work. This means more traffic, more leads and more sales for your business.
Create Interesting & Helpful Content
People come to Facebook for various reasons, and being 'sold' to is not one of them. For marketers, it's more of a courtship that they need to use in order to warm up their potential clients. One way of doing this is through blog posts. I would suggest creating blog articles designed to introduce a call-to-action at the end. Write content with the end in mind. If you have a program/service that you want to sell, create an article that provides helpful tips for them to get started and close with an introduction to your product/service that will help them even further.
Carousel Your Content
People like to see new things and Facebook is no different. Once you've created blog articles that encourage action (or at least have a call-to-action in the sidebar), try inserting them into a multiple post type of ad. This is commonly referred to as carousel ads which contain 3-5 pages/posts that you want to feature on your website.
Create An Invisible Opt-In
People who click on your Facebook content ads don't have to subscribe to your email list to become part of your tribe. Instead, by visiting your website they are already added to an invisible opt-in called a 'website custom audience'. This list is an audience that you can post ads to afterwards. It's like a secret list that's available in Facebook which will usually be larger than your email list because not everyone signs up for your list right away.
Use Your Invisible Opt-In List
Once you have created your website custom audience, it's best to start putting it to use once it grows past 500 users. Typically up until now, people advertise their ads/posts to their own fan base on Facebook to get more engagement and clicks. With the introduction of website custom audiences, you can now market your ads to this group of people more inexpensively and effectively than your fans. Your recent website visitors are your active and engaged fans which generate cheaper clicks for you and better results than cold traffic because they have already been to your website.
Video Testimonials
If you can capture a testimonial of one of your raving fans on your smart phone, then it would be a smart move to upload it directly to Facebook and promote it to an audience that is already familiar to you like your invisible opt-in list (website custom audience). This is a great tactic to help move people along in your sales process towards making a sale. Facebook users like authentic video because it's more believable and relatable.
Use Call To Action Buttons
When you're creating your ads, be sure to use the call-to-action button to help inspire action. There is a new one that enables Facebook users to call you right from the ad which is a great fit for some businesses. These are available to use on single post ads and videos.
Create and Use a Lookalike Audience
If you have less than 1,500 website visitors per month, there are other strategies to find new customers. One of the most effective ones is the use of lookalike audiences. These audiences are used to replicate existing fans or customer lists that you upload to Facebook which are ideal for people who are new to Facebook.
What's Next?
Facebook continues to roll out fresh new ways for businesses to reach out to their potential customers. Video has been really hot for the past few months and businesses are now bypassing YouTube and uploading directly to Facebook to provide a smoother user experience. It is common to attract a video view for under a nickel at this point, which is a bargain compared to other advertising venues.
About the Author:  Tammy Martin is a certified Facebook ads expert who works exclusively with conscious entrepreneurs to amplify their messages out to the world. She creates the entire sales process from start to finish for webinars, digital products, ecommerce products, subscriptions, services and more.If you're interested in staying on top of Facebook updates check out the Martin Marketing blog. Or feel free to reach out for a one-on-one session if you need additional coaching or ads management.
Have you tried Facebook ads? What has been your experience? What other questions do you have?  Please let us know in the Comments below.