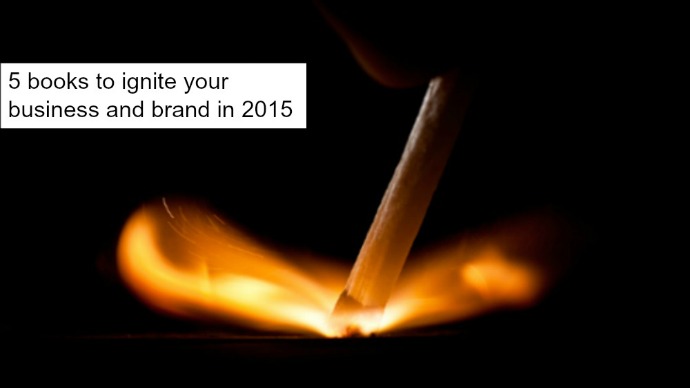 You have big plans for the New Year. I just know it! You want to build your business, increase your brand awareness, streamline your marketing efforts and, essentially, get your irresistible message out there – with style and grace, naturally.
Whether you are a business owner, or have a book, cause, or project to get off the ground, here are five plucky and practical books I recommend to amplify your message and ignite your efforts this year. (Tweet this!)
Propel: Five Ways to Amp Up Your Marketing and Accelerate Business
Whitney Keyes is a consultant, international speaker and professor who offers smart, simple and super fast marketing strategies for organizations big and small. Plus, she's a trusted colleague and I've seen her work her magic first-hand. This book breaks down a marketing and sales plan into something doable, practical and – dare I say – fun to execute.
I'm at a Networking Event—Now What??? A Guide to Getting the Most Out of Any Networking Event
This book will make you love and appreciate the art of networking. Seriously. Whether you're an introvert, or simply and extrovert who hates business card-swapping and idle small talk, Sandy Jones-Kaminski is a networking maven and shows you how to network the right way so its fun and fruitful. One hint: It starts with generosity and curiosity – not forceful sales pitching. Sandy shares helpful conversation starters, online connection do's and don'ts and ways you can get more out of that next conference or event – other than parking yourself by the pastry table.
The 11 Laws of Likability: Relationship Networking…Because People Do Business with People They Like
Michelle Tillis Lederman is an executive coach and corporate trainer who has boiled her years of experience with large corporations down to 11 simple principles for making sales, forming partnerships and managing teams. This book is a perfect read for entrepreneurs, business leaders and job seekers alike if you're trying to get out there and promote your message or mission.
The Digital Mystique: How the Culture of Connectivity Can Empower Your Life – Online and Off
Sarah Granger is an online guru, technology master and digital marketing consultant who has worked with clients ranging from political campaigns to corporations. This book is a great primer on how to seize digital opportunities to make both your personal and professional life richer. Her tips and case studies cover important guidelines on everything from making online connections with possible clients and partners met to privacy to encouraging your kids to behave responsibly online. Sarah offers a positive spin on the digital revolution and how it can help us connect, create and collaborate when used appropriately.
Branding Basics for Small Business (2nd Edition): How to Create an Irresistible Brand on Any Budget
Sorry, couldn't resist adding my book, especially since I've added more robust content in this 2nd edition on networking, social media and content marketing, in addition to new case studies and interviews with marketing experts such as Jay Baer, Ann Handley and Mike Michalowicz. The book outlines a simple ten-step questioning process to clarify your brand strategy, focus on your ideal audience and make thousands of marketing decisions with more ease and confidence. The goal is to help you attract more of the right customers and save valuable time and money by avoiding "random acts of marketing." Doesn't that sound good?!
Which books do you recommend to boost your business or brand? Please tweet me @redslice and let me know.
Image Credit Ulmann Patrik vis Flickr