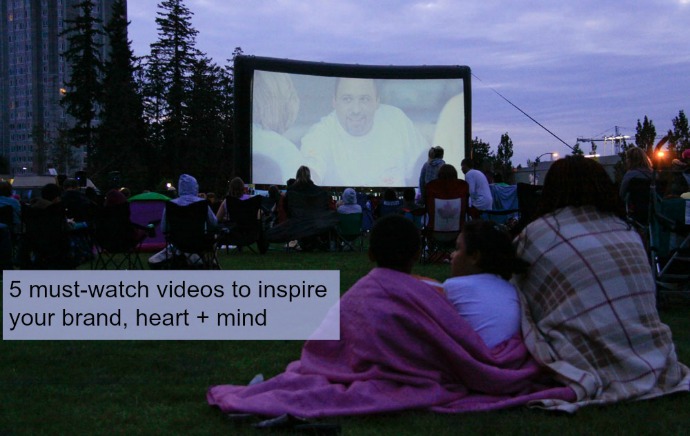 There is such a treasure trove of great videos out there. Videos that make us think, cry, and laugh. Videos that inspire us to action or give us pause in our own lives. And videos that crisply and clearly offer tips to move us closer to our goals.
Today, please enjoy these 5 great videos I've curated for you, in hopes they will inspire and delight your brand, heart, mind and soul. (Tweet this!)
The Power of Reinventing Ourselves. Dorie Clark's inspirational, personal (and funny) talk about being yourself, living your truth and parlaying that into your personal brand so that you can uniquely stand out. Dorie's first book, Reinventing You, is a recommended read in the 2nd edition of my book, Branding Basics for Small Business. Dorie's next book, Stand Out, is now available for pre-order. It's a book about how to become a recognized expert in your field – something we all need to discover these days in order to gain true professional security.
7 Problems Every Extrovert Understands. Hilarious! And I'm willingly to admit they are all true and have happened to me on my multiple occasions. Introverts in the house: you will love this as well, as you are the saints who put up with us.
How to Increase Your Twitter Engagement. My girl Amy Schmittauer of Savvy Sexy Social creates the most entertaining – and USEFUL- videos about how to use social media more effectively. Her sharp advice can even be found in the 2nd edition of my book, Branding Basics for Small Business – that's how much I love her. In this video, Amy shares a little secret for how to tell if you're doing what you need to do to increase your Twitter love.
Lennon and Samaras Share Title Success With Young Fan: OK, if you missed my post on this a few weeks ago, get ready for your heart to burst out of your chest and your eyes to well up with joyful tears. I showcased this heartwarming video of a young fan getting the experience of a lifetime at the Scottish Premiership soccer match as a great example of how need to make your customers be the hero of your brand – just like Celtic FC did here. The joy in this boy's eyes says it all.
I'm Not Your Inspiration, Thank You Very Much: The previous soccer video is about making a fan the hero because of his loyalty and not simply because of his developmental challenges. Stella Young was a humorous and tireless advocate for disabled rights. Read more of her story here. Alas, she just came onto my radar this past week when she died at age 32. This TEDx video is a sharp, funny, wise call to arms to stop treating people with disabilities like they are exceptional JUST because they have disabilities and that it is insulting and unfair to treat them that way. Her advocacy and push for change – not her failing body – is what makes her an inspiration. You will crack up at her reference to "inspiration porn!"
Got other videos you love that you'd like to share? Please tweet me the link and I'll share it out!
Photo Credit: Waferboard via Flickr