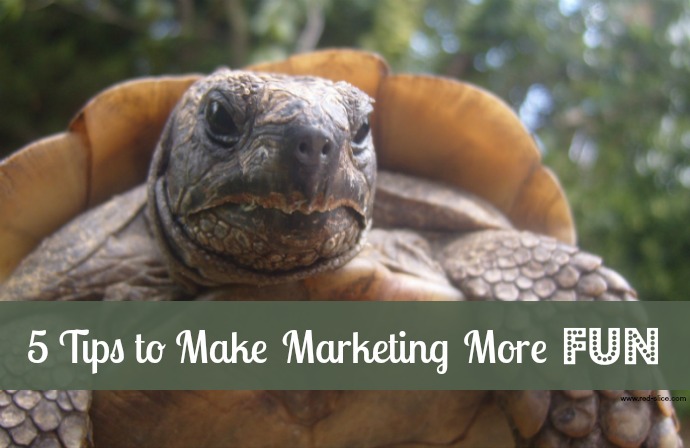 I adore business owners that say they hate promotion. It's super cute.
This comes in other forms as well: I hate sales, I hate networking, I hate marketing.  hate writing.
Why so much hate?
If this is you, let me comfort you a little bit. It's not that you "hate" any of those things. Truly. Please save hate for things like reconciling your books or filling out government forms.
I believe that what you actually hate is the way you think it has to be done. Somewhere along the way, you associated cheesy spokespeople, ego-centric self promoters and jargon-filled web copy as "marketing."
If you are trying to send any sort of message to the world, be it attracting customers or promoting a book or asking for donations, then you are a marketer.
You should be the most excited person in the world to share your story and your value. If not you, then who?
If talking about and promoting your work doesn't light you up, then why should your audience care? (TWEET THIS!)
So let's banish all of your old notions about what promotion "should" be, shall we? Here are 5 spicy ways to make marketing more fun:
Make friends, don't "network": If you go a BBQ and you don't know anyone, isn't it fun to stumble upon an interesting person or someone you want to get to know better over coffee? You're meeting them casually, letting mutual interests guide the conversation, and you can see if you click….or not. The truth is that we do business with people we like. Not everyone is going to appreciate that snarky sense of humor but then c'mon over to my house, because I'll love you! If you want people to know about your business, you have to…you know, be around people! Offline AND online. Instead of tensing yourself up into a stress ball the next time you "have to" attend a networking event, think of it like a block party. Who do you like talking to? Who is interesting? Who did you exchange knowing grins with when you made that sarcastic crack about the boring speaker? Give yourself the challenge of meeting one (just ONE!) interesting or cool person at your next function or in your LinkedIn group or wherever and see where it takes you.
Read: The 11 Laws of Likability by Michelle Lederman and I'm at a Networking Event—Now What??? By Sandy Jones-Kaminski
Write Love Letters, Not Sales Pages: Maybe you'd rather dance on hot coals than write….anything. Or perhaps you're a little less extreme and would just rather not write "sales copy." Again, you may hate this because you're conditioned to think it has to sound like a cheesy infomercial or that you simply must have tons of BUY NOW!!! arrows all over a 9-mile long page. Not true. The best sales pages are those that speak to the benefits the potential buyer gets, of course, but they are also personal and approachable. No one wants to be sold to, but everyone wants to be wooed! Approach your next sales page like a love letter: I know you crave x, y, and z, Maria, and this is why you'll love what I made for you!" Think about how you convince your friends to read a new book or try a new restaurant that you love. You're excited, not robotic. You talk about all the reasons they would like it. You immediately text them the link so they don't even have to make an effort. Treat your sales copy like your next juicy recommendation to a friend and see how much more you enjoy writing it!
Do: Need more inspiration to get your writing juices flowing? Try this creative tip from Melissa Cassera. And here's a fabulous template from Alexandra Franzen if you need one. Oh, and total thanks to verbalizing this concept goes to my friends and collaborators Alex and Melissa (I never titled it anything as eloquent!)
Automate Where You Can: Rather than dying a slow death every day, batch and automate as much as you can for the week (or month, if you can be that on top of things.). If you can set it and forget it, it's a lot less painful. I know a few successful solopreneurs that batch all their blog posts by locking themselves in a hotel for a weekend and cranking out content for the next six months. Then they just schedule the blog posts, all the associated social media posts to drive traffic and BAM, simply check in on comments when it goes live. If they even use Comments. Some folks choose not to do this.
Try: BufferApp, Hootsuite, Missing Lettr.
Take an Improv Class or Join Toastmasters: If you have something to share with the world, you have to be able to tell them about it. No getting around it. If public speaking–whether giving a simple elevator pitch, running a small workshop or presenting a keynote to thousands­–horrifies you as much as the thought of a world without wine (GASP!), face your fear. Part of your anxiety comes from lack of practice or fear of the unexpected. Like anything else, the more you do something, the better you will get at it. Sharpen your skills and make a game out of it! Take a local improv class to get comfortable with thinking on the fly (and to get comfortable in your own body, which could be something adding to your angst.) And have fun doing it! I, personally, adore public speaking because there is no greater honor quite like enlightening and inspiring a person right in front of you and to see their eyes light up! When you attack your fear head-on, you will not only defeat the bully, you may find this is a wonderful and fulfilling way to spread your message.
Do: Type "Find an improv class" into Google. Join a local Toastmasters chapter.
Read: The Introvert Entrepreneur by Beth Buelow. And these 10 tips to improve your public speaking skills.
When all else fails, outsource: OK, so there might be some ongoing marketing tasks that you really do loathe. That's fine. You can always outsource tasks that bring you no joy or on which your time would be better spent elsewhere. Look to a virtual assistant (VA), intern, agency, consultant or perhaps even a new hire. You can find great inexpensive resources on sites such as Upwork, Fiverr and 99Designs­ but you need to be very selective and clear on what you want in these places, as they attract all levels of talent. Some specific folks I turn to are Worldwide101 for my VA, Virtually Savvy for social media management, Hey Eleanor for copywriting, and Tiny Blue Orange for website management. For interns, contact your local college or university to find business, marketing or communications students who are looking for internship opportunities.
Image Credit via Flickr