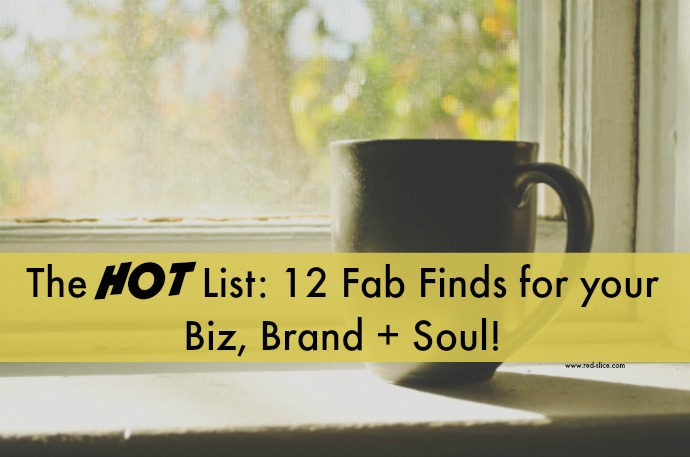 With today's avalanche of information coming at us every day, one of my joys here at Red Slice is to curate some fabulous resources for you.
There are so many smart people doing amazing things in the world: writing books, inventing time-saving tools and creating soul-stirring, shut-up-and-dance music (and hilarious parodies of said music!)
Here's my Hot List of current obsessions: the people, books, tools, and music that will make your biz and life easier and more joyful. (Tweet the love!)
LEARN:
7 Things to Do When a Big Website Links to Your Post by my writing partner-in-crime, Sarah Von Bargen @yesandyes
20+ Social Media Hacks and Tips from the Pros suggests oodles of tips and tools to get smarter about social media management, including introducing me to MissingLettr (Tip #8) which I really dig. By @LisaDJenkins on @SMExaminer
8 Ways Lead Pages Can Grow Your Blog or Online Business by @melyssa_griffin. I just started using LeadPages and it's been fabulous. There is SO much you can do with it to grow your list and sell your offerings online, and Melyssa explains it all.
DISCOVER:
Use this to easily put together an inspirational, funky or thrilling custom playlist for your email subscribers or Facebook fans? @8Tracks
Surprise a special client or customer by recording a personal thank you message. Will certainly cut through the email clutter and they will adore it. @vocaroo
If you are a speaker or workshop leader, please check out PunchSlide Design to beautify your slide decks and make them pop. I'm using them for an upcoming keynote to 400 people and I can't wait to show off my new deck! @punchslidedsgn
READ:
Career Courage: Discover Your Passion, Step Out of Your Comfort Zone and Create the Success You Want by Katie Kelley: This amazing woman was my tough-love coach who, with just a few sessions, transformed the way I do business in 2010. Whether entrepreneur or corporate climber, you will love her savvy approach, meshing psychological counseling experience with her mad career coaching skills.  @Katie_C_Kelley
Frientimacy: How to Deepen Friendships for Lifelong Health and Happiness by Shasta Nelson.  I adore Shasta personally and professionally. This woman is passionate about changing the world by creating better friendships. Unless you're someone who does not want lifelong health and happiness, plus sizzling fun and nurturing friendships (whether you're male or female), get this book.  @ShastaMNelson
Nail the Interview, Land the Job: A Step-by-Step Guide for What to Do Before, During and After the Interview by Michelle T. Lederman. Michelle is a dynamic and direct executive leadership and networking coach who is also a friend and a past client! With targeted information for the recently unemployed, new graduates, and parents returning to the workforce after an extended absence, this book is a crucial tool for people at any stage in their careers. @mtlederman
MUSIC:
This song is my everything right now.
This parody of it is a MUST-VIEW if you have toddlers…be prepared to laugh until you cry.
And THIS amazingly cool jam by JT may just be the song of the summer!
What hot picks do YOU have to share? Please post them in the Comments below!
Image via Flickr