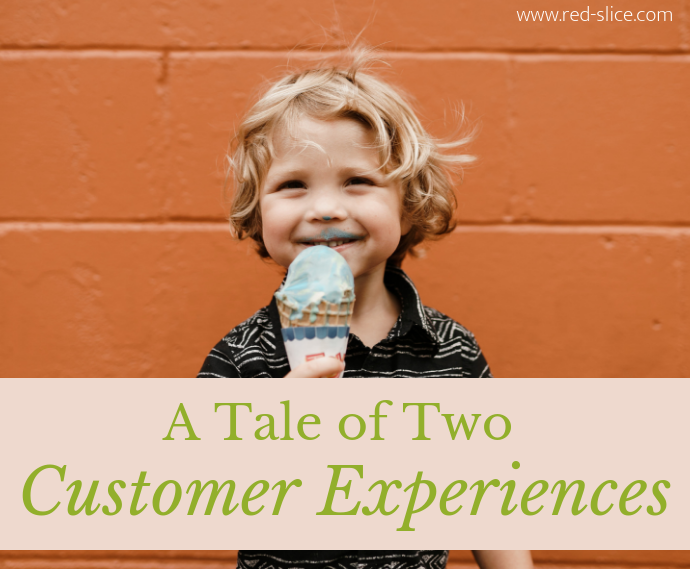 Customer experience is now a defining competitive edge.
In fact, this Forbes.com article states that customer experience is one of the top disruptive trends in business this year.
So let me ask you: Which customer experience would you rather have?
One where the customer service rep responds promptly, empathizes with your issue, and offers you options to solve your problem, even if it may not be the original solution you'd had in mind?
Or one where the customer service rep blames their lack of responsiveness on the company being too successful to manage all their new business, implying it's somehow your fault for being impatient?
These were two such experiences I had recently. The first with, of all companies, a cable company. The second, with what is supposed the be a new darling of online retailing.
What made the difference? EMPATHY.
Empathy is not just a feel good trait. It's an essential brand advantage that impacts sales and customer experience. Especially when dealing with an upset customer or client.
(TWEET THIS!)
The bad customer service rep (for lack of a better term) blamed me for the initial problem, acted like she didn't care at all that I was now in a bind, and haughtily said to me, "Well, I can't help do anything about it" to which, when I prompted, "Well can you ASK someone who CAN do something," she replied with indifference, ""Sure, I guess I'll ask if something can be done, but I don't think so." Yep. She never asked.
The good customer service rep immediately empathized with my frustration and shock over a huge increase in my monthly bill ("Wow! I would totally feel the same way if I'd opened up a bill and saw that increase too! Let's see what's going on here.")
The bad customer service rep had canned email responses that were supposed to "show empathy" – except when you get the same phrase in every single email, it's clear it's from a script ("We never want our customers to have that kind of experience.") Well, clearly you do if you do nothing to fix the process.
The good customer service rep had no script. She looked at my account and customized a solution on the fly. ("Let me check something real quick. I think I can move your plan to another one we now have available so you're paying the same price you were before.")
Google has seen the business benefits of empathy. Company research projects have revealed that its most innovative ideas, productive teams and high-performers rank empathy high as a crucial factor to success.  Microsoft's CEO Satya Nadella cites empathy as the most important catalyst for innovation.
How do we build empathy into the customer experience?
Implement the right processes: Empower customer service reps to do what it takes to solve the issue and not tie their hands with onerous "permission getting." Allow for fast resolutions and creative problem solving.
Hire right: Emotional intelligence is crucial. Don't just staff a body. Be sure you are screening and hiring people who have shown empathy in past roles. Ask them how they collaborate, problem solve or handle angry customers. Role play scenarios in the interview and see how they respond.
Scale for success: Your success is no excuse for a poor experience. Don't blame "too many customers" on the reason you don't have enough reps or logistical support to solve problems. Don't blame your email system for not getting customer complaints. That's on you.
Acknowledge feelings: While it's tempting to not want to legally "take blame" for something that went wrong, you can still be human and say you are sorry the customer is having such a bad experience. Acknowledging their angry or hurt feelings by relating to them from a similar experience you have had can go a long way to easing the pain.
It's not enough to have a great product. The bad customer service experience company has a great product and it's killing me that I just don't want to give them any more of my money.