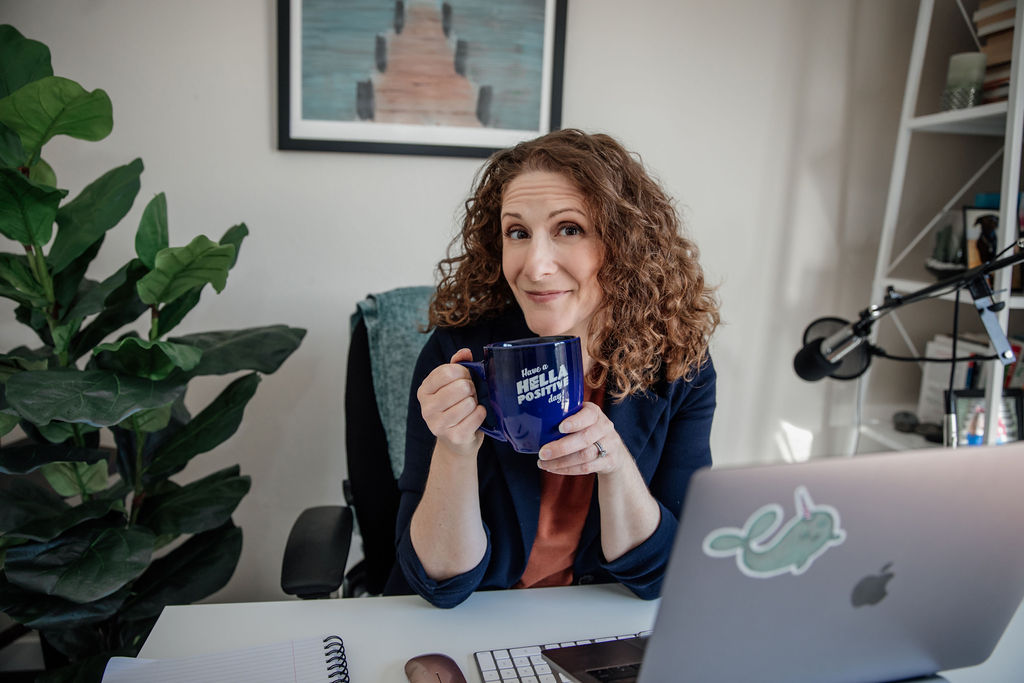 Brand Booster Session
A quick shot of power-packed brand advice + ideas just for you.
(Espresso optional)
Need a boost for your brand or business?
Got a big idea for a new business, book, or offering but you need a sounding board to clarify your vision, brainstorm killer names or simply figure out the first step?
Has your brand or business lost a bit of its shine and you're not sure why?
Do you have a sneaking suspicion you could be positioning your offerings better or making smarter marketing decisions – but you're totally overwhelmed at where to start tweaking?
Or do you simply want to get a tough love sanity check that you're making the right brand and marketing moves to attract your ideal audience?
You could keep spinning your wheels inside your own head, feeling frustrated, overwhelmed– and getting nowhere. Or you could spend some time with me to kick-start your ideas into action.
Here's how it works:
Book your Brand Booster Session by clicking below and we'll schedule a time and date that works for you.
You'll also receive a link to fill out the Brand Booster Worksheet. This simple + snappy little form helps you organize your goals so you can squeeze every bit of juice out of our time together. This will guide our discussion, with the added bonus of enabling me to prep and show up swinging.
In our session, we'll spend 90 minutes together by Zoom hashing out ideas, getting clarity, brainstorming creative themes and focusing you on the most immediate next steps you need to make your dream a reality. This is completely customized for you. Just feel that tension easing, those muscles relaxing and your energy zooming as you get ready to take on the world with your new ideas!
After the call, you'll get a Wrap Kit summarizing your A-Ha moments, irresistible new ideas, play-by-play next steps and a list of fabulous people and places to help you get things done. And I'm available to you by email to answer any additional questions.
And your investment for all this joy? Just $497!
Our Brand Booster Session was excellent! Thank you for your valuable insights around my next-steps. I don't know how anyone could haphazardly do all this without the guidance you give in your book and expect to have any success. You have cut my time in half (at minimum) to get my efforts going and easily saved me third of my budget had I tried to do this without your expertise.
Maria is incredibly skilled at what she does, and her enthusiasm is contagious. I wasn't sure what to do with all my disconnected ideas but I left our session with a new sense of direction and focus, which is exactly what I hoped to achieve from our time together. I also feel more confident in launching my new business – an unexpected bonus! As a new solopreneur sometimes I feel like I'm making up everything as I go, and meeting with Maria helped me know that I'm on the right track.
Maria took the randomly connected ideas I had about my brand and turned them into a cohesive product line that's the backbone of my business. Several times, her expert advice saved me making a poor choice that seemed right but would've been disastrous. And she has fabulously talented colleagues and resources to share. I was in excellent hands with Maria and you will be too.
Maria spent a very focused 90 minutes with me uncovering SNOA Sleepwear's current marketing needs. She understood the limits of our finances and staff, saw unique ways that we could leverage our position, and gave me a road map for the next steps. Maria provided real clarity on what I should be focusing on and what could wait. It was as if she had x-ray vision into my company and into its marketing needs!
I knew I wanted to work with Maria because she exudes creative energy, wit and credibility. I was looking forward to our session all week and for good reason–I left our time together with tons (loads, oodles, copious amounts) of information and resources that I could use immediately. Not only was the time we spent practical, but the buzz from our work reverberated for days afterward. 90 minutes with Maria yielded more inspiration than I've had in over a year. Her ideas and ability to help me focus are tremendous. I can't wait to keep working with her. She makes me better at what I do. That's kind of a big deal.
I only conduct two of these per month, so hurry and grab your spot.
First come, first served.
If you're ready to get unstuck and recharge with clarity and confidence, click below to purchase your session and let's get this party started!