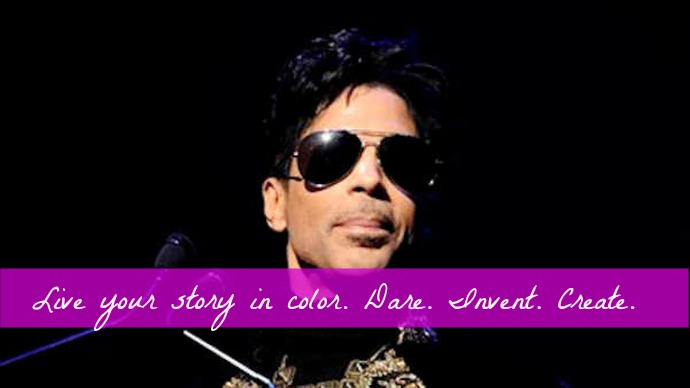 By now, you've probably heard the news that the artist 
Prince has passed away
 at 57. Reports are that he died due to flu complications (sounds crazy, right?).
I'm shocked and saddened. But why?
See, Prince defined the soundtrack to my youth. I was not a "super fan" by any stretch (Leaving that to my bestie, Becky) but his music accompanied my young big dreams, inner wildness, and joy.
I, like you, rolled my eyes when he changed his name to a symbol decades ago and enjoyed mocking his new, "formerly known as Prince" moniker. Seriously, how ridiculous, I thought. But man, I didn't care what he called himself when I rocked along to "Kiss" or lip-synched "When Doves Cry" into my hairbrush. The rhythm and funk moved me, as it did so many others. And "Purple Rain" is as epic a rock ballad as they get.
Some folks felt a loss when Bowie passed, and while I admired his creativity, that loss didn't cut as close to home as this one. It feels like our planet is losing many of it's creative geniuses all at the same time.
At a time when some politicians vilify diversity, it is comforting to know these renegades are around. Daring, pushing, zagging while everyone else zigs.
Our world desperately needs these voices. Who wants a world made of plain vanilla (no disrespect to tasty vanilla bean ice cream) when we should be living in color?
That's where you come in.
Keep dreaming. Keep daring. Keep pushing the boundaries, in loud or quiet ways. We don't all have to be Lady Gaga meat dresses to make a difference. But never, ever make your creative vision small. Don't hide your message or brand just because it's "different."
Whether you are a leadership expert, life coach, designer, writer, speaker, consultant, or store owner, embrace your uniqueness. The world needs your color now more than ever.
I mourn the loss of this creative voice, whether I always agreed with him or not. And I pray my son does not have to live in a world too afraid to embrace more Bowie's or Prince's or…..YOU. Heck, I pray I don't have to live in a world without such color and life, either.
Rock on