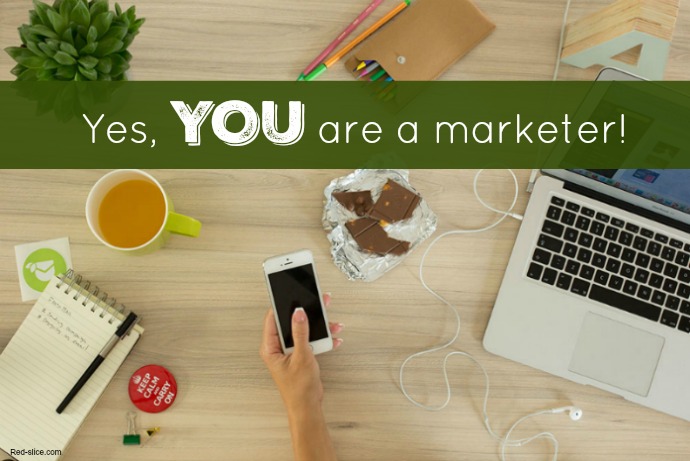 Do any of these refrains sound familiar?
"I don't know what I don't know about brand. Why do I need it?"
"I hate marketing, I'm not interested in being the star of the show. It feels slimy."
And my favorite (and the most common):
"I'm not a marketer."
Don't get me wrong. The fact that folks have these beliefs is why I have steady employment and I'm more than happy to serve.
But let me be clear: You are a marketer. (Tweet me!)
You may not know the ins and outs of writing a killer blog post, or how to do Facebook ads correctly or why you need a messaging platform…..but you are a marketer.
Marketing, in my view, is about sharing the passionate truth of your story to the right people so that they know you solve a problem they have – or you can deliver something to them that they really, really crave.
When it comes down to it, your work either helps people avoid pain or find pleasure. Whatever that "pain" might be: struggling in business, feeling lonely, spending too much money. Or…whatever that "pleasure" might be: saving money, losing weight, gaining confidence, etc.
Marketing is NOT: Lying, coercion, extortion, bragging, selfish or cruel. While many soda, food companies or politician may not subscribe to this is beside the point.
FACT: Marketing is communication.
If you enjoy what you do, if it provides value for people and if you're excited about talking about it, then guess what? That's marketing.
Whenever you overdeliver for clients, delight customers, or tell someone about your cool new offering or snazzy new product with all the zeal of a tween at Bieber concert, you are marketing.
Doesn't mean you still can't grow and learn exactly which steps to take and how to get to success.
Never again let me hear you say, "You are not a marketer."
There is a brand and marketing genius inside you, bursting to get out. You just need Glinda to the Good Witch (a.k.a, me) to show you how to use those ruby slippers you've been wearing all along and guide you down the right road to get home.