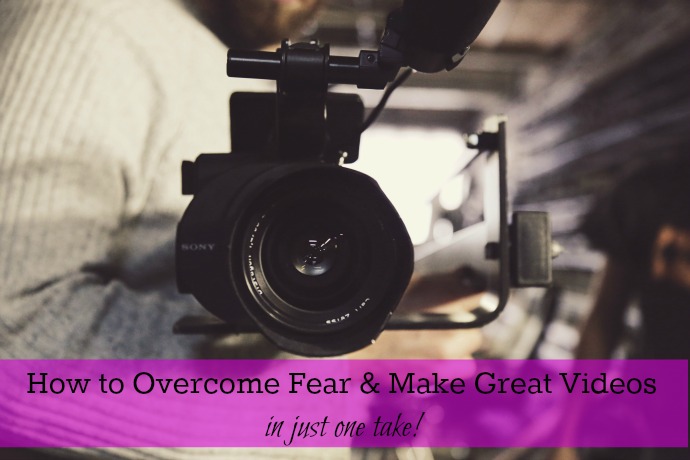 Do you freeze like a deer in headlights when a camera starts filming you and your important message to the world?
We all know video is a fabulous way to communicate your brand. But something seems to happen when we turn that RECORD button on. Doesn't matter if we're surrounded by lights on a fabulous set – or recording on our iPhone.
As an actress, I totally get this – and it doesn't mean it doesn't happen to me either. You freeze. You forget your lines. Or worse, you come across monotone and robotic. What is about that little flashing light that makes us lose all of our passion and focus?!
Never fear. Making great videos to amplify your brand is easier – and cheaper – than you probably think. And you can overcome your fears to come across brilliantly. Video is one of the best ways to really convey your story and personality so you gain that sought-after trust you seek from your audience.
Today, I'm talking with Nathan Agin to help you get over your video fears and create something simple, stunning and effective. Nathan is the founder of Videos in One Take, which helps entrepreneurs become more powerful and captivating in their videos, leading to more engagement and conversions. Nathan has appeared in feature films, a Super Bowl commercial, and on Jimmy Kimmel Live; he also produced and hosted a TV-quality travel/food pilot. He's a classically trained actor and has created over 400 YouTube videos; on his Videos in One Take blog, he explains how he does it–and how you can, too.
In this interview, we chat about:
Why video is so important to an online business.
How you can get over your fear of being on camera.
The simple keys to creating great videos (without expensive equipment or fancy editing…as Nathan says, "You don't need a crazy setup!")
Different ways you can use video to promote your brand and your business..while showcasing your unique personality.
The challenges that even stump the pros!
As Nathan shares, "The videos you have the ability to create have more power than you realize." (Tweet this!)
And don't miss….Nathan is launching a new Videos in One Take course to teach you everything he talks about in the video and more!. Check out the details right here!
Photo credit: Laura Lee Moreau, Unsplash
After watching the video, please share in the Comments which tip or trick you'll try out today to get started on making compelling videos. Do you currently use video or are you dipping your toe into the water?