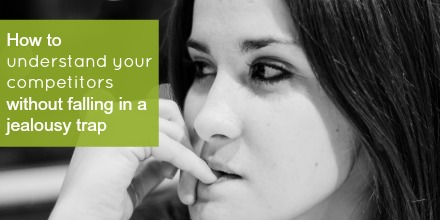 Stop me if this sounds familiar.
An intelligent, experienced marketing professional gives you the sage advice to keep an eye on what your competitors are doing.
So you do.
You subscribe to their newsletters. You pore over their lush, beautifully written blog posts. You stalk their social media profiles and notice that their followers number is in the tens of thousands. You read all their testimonials and then stalk the people who gave those testimonials.
And instead of feeling inspired and informed, you feel completely, horrifically consumed by jealousy.
How can he get away with charging so much?! Why do her tweets get retweeted so many times? How'd he get 12,000 Facebook fans? I'm doing all the same things … why is she so much more popular than I am?!
(cue minor melt down)
It's important to know what your competitors are doing. It's a lot more important to maintain your self-esteem.
With that in mind, here are five things you can do to stay abreast of your competitors without losing your mind or your sense of self. (Tweet this!)

1. Know your strengths and preferences
Maybe your biggest competitor has an amazing Instagram account, filled with photos of her sweet toddler and handsome husband, but you're super private. Maybe they publish five long, thoughtful posts each week and you're more of a once-a-week blogger.
Before you check in with your competitors, take a few minutes to remind yourself of what you truly love doing and what you could do without. If you're loathe to use Pinterest, it doesn't matter how many Pinterest followers your competitor has, you won't be using that platform.

2. Build your success backwards
What does success look like for you? Is it attending mid-week matinees because you can? Taking a month off every summer? Paying off your school debt in one fell swoop? A high-ceilinged, light-filled loft in Tribeca? However success looks to you, it's probably more complex than Instagram followers or numbers of retweets.
When you know what your version of success looks like, you can reverse engineer it. You can work time into your schedule for matinees and summers off. You can save or earn with your school debt in mind. You can check out Tribeca's rental prices. When you're taking steps towards your personal version of success, you're less likely to be threatened by what others are doing.
3. Know that popularity doesn't always equal profitability
One of my most successful friends didn't have a website till a few years ago. She ran an incredibly successful consulting business that relied exclusively on word of mouth. And she was raking in a six-figure income with a wait-list that she'd refer out to others.
Likewise, I know a few people with tens of thousands of Instagram followers who are barely scraping by. Or writers with New York Times bestsellers who still work part-time at ad agencies. A person's numbers – their social media followers, their retweets, their blog comments – don't tell the whole picture. Not by a long shot.
4. Look at their bigger picture
Some of my favorite bloggers and online personalities have lives that are very, very different from mine – which means their offerings, blog posts, and social media updates will be very different. Marie Forleo is a wildly successful business coach who speaks mostly to women through highly-styled, polished videos she produces each week. Natalie Sisson of The Suitcase Entrepreneur lives life as a global nomad and provides fabulous tools, content and resources for fellow wanderlust-seekers who want to create lifestyle businesses that don't tie them down. Pioneer Woman lives on a cattle ranch and home schools her four children and her successful blog following has led to her own show on The Food Network. The Glamourai is a ridiculously stylish 20-something fashion blogger who lives in NYC. Joy The Baker is a single, childfree, cat-loving food blogger who makes a home in New Orleans. I love these women; our lives couldn't be more different.
And because our lives are different, we approach business differently. I'm a new mom; I'm not interested in devoting 60 hours a week to my business. I don't want to just target women. I have other passions such as acting and writing that I want to build into my work. When you feel the green-eyed monster rearing its head, take a few steps back and consider the bigger picture – both yours and theirs.

5. Follow and research strategically
Checking in on your competitors doesn't necessarily mean reading their blog daily or noting each and every time they tweet or post a photo. That's a recipe for anxiety and neurosis.
Instead, set aside a few hours each month to see what a few competitors are up to and then approach this practice as an objective investigation. Less "I'll never write as well as they do!" and more "I can see they post once a week, every Wednesday and tweet five times a day."
In fact, next week I'll be sharing a worksheet to help you objectively check in with your competitors. You'll emerge with tons of helpful information, self-esteem in tact. Want it sent directly to your inbox? Sign up for my newsletter!
How do you walk the line between information and insecurity? Do you make an effort to see what your competitors are up to?
P.S. More self-esteem boosting marketing and branding advice here.
photo by Javier Morales // cc