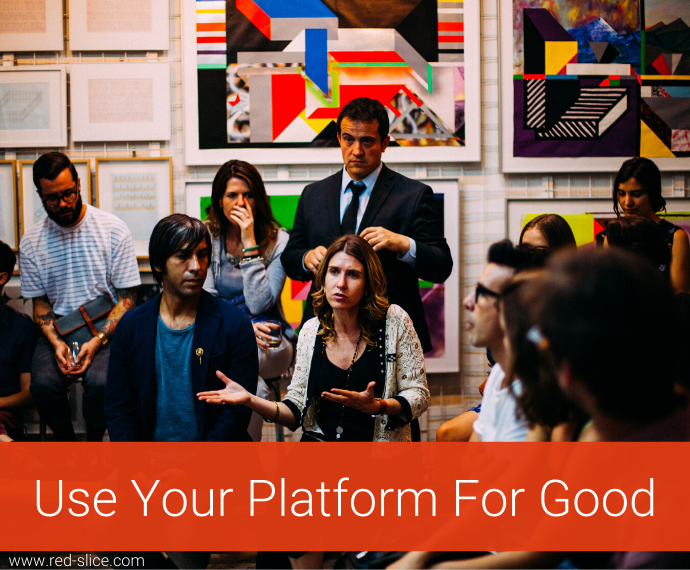 Whether you reach 5 people or five hundred thousand. Whether you are CEO of a global brand or an entry-level manager or a solopreneur whose office staff consists of you and a lazy Black Lab who lounges next to your desk all day. Whether you're a stay-at-home parent, work for a big corporate giant or a small scrappy local business.
You have influence. You have a voice. Use your platform for good. (TWEET THIS!)
We are in a crazy time right now, where the lines blur between work and home (how can they not when you're Zooming in on your boss in his guest bedroom/makeshift office as his 5-year-old wanders in, demanding a cupcake?). The façade is gone. We are vulnerable and real. There is no longer a "work you" and a "personal you" just YOU. A whole being, with all your complexity, obligations, life circumstances…and values, ethics, and opinions.
Now is the time to speak up. Now is the time to align your work with who you are and to use whatever influence you have.
If you have expertise, share your thought leadership generously. If you passionately support a social justice topic, be visible. Post. Tweet. Share articles. Donate money. Raise awareness. Get involved.
In my twenties, I used to believe in "Work Maria" and "Personal Maria." Personally speaking, back then, it was probably a good thing to have those boundaries!
But we cannot continue to be one person in business and another at home. Not that we don't have rules and etiquette for the workplace, but you need to be whole.
You can impact change by raising your voice and standing up for something. Regardless of the size of your sphere of influence.
So whether you are a website design, or coach, or software engineer, or marketing executive or whatever….you have a brand. You have a community. Make work that matters. Be a light. Speak out. Use your work, your voice, your platform for good, not evil.
No one is going to ask for credentials or limit you because you are not famous or have less than a million followers. Make the impact, one person at a time.
That is how change happens.