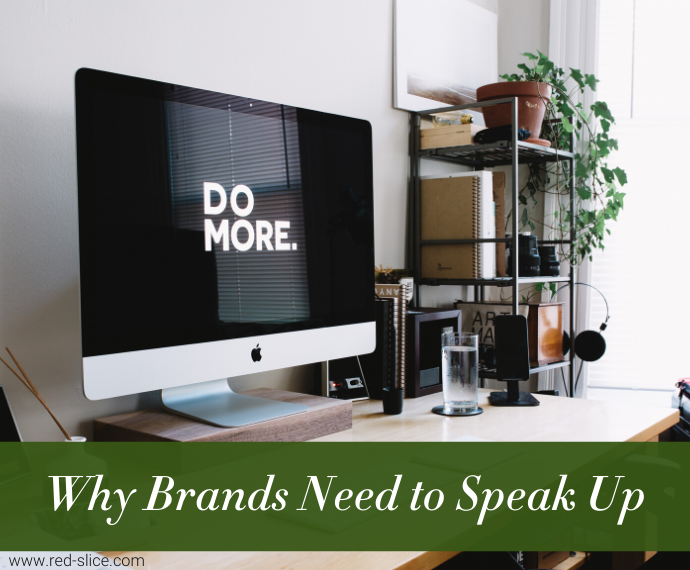 With everything going on in our world – from a global pandemic to economic hardship to countless social justice and racial inequality issues, corporate brands might be tempting to adopt a "business as usual" approach and focus only on their products and services.
But you can't. And here's why.
Your business thrives on people. And your employees, customer, suppliers and partners are all people, being impacted at home by hardship or adversity. Whether they are juggling work demands with homeschooling their kids…or whether they are people of color who are fighting for their rights and their lives, they are all IN THIS. They are dealing with a lot.
Your brand cannot be tone deaf right now. Your company will simply look out of touch at best and callous and heartless at worst.  (TWEET THIS!)
And the public is paying attention. Not only have people watched and made purchase decisions based on brands' responses to the Covid crisis, new startling research shows that people are expecting brands to take a stand and speak out on social issues. Edelman reports: "Respondents believe that brands must act to create change and influence: 60% said brands must invest in addressing the root causes of racial inequality and 57% said brands must educate the public."
Younger consumers are even more critical. According to ongoing research from DoSomething.org, Gen Z is demanding that brands provide useful content, community resources, and treat their employees with respect:
"65% wants brands to ensure equal representation in their leadership, including having people of color on their executive team and promoting people of color to management. And 64% want brands to promote diversity in their advertising, like having more BIPOC (Black, Indigenous, People of Color) models. The biggest takeaway from what Gen Z wants from brands right now is aligned with what they've always wanted: show, don't tell. Yes, use your platform. But go further. Those who will win among Gen Z are those who back it up, do the work, and show us the money." 
So optics aside, what can your brand say and do right now to make things better? What real change can you make to not just talk the talk but walk the walk? How can you pivot your message, customer focus, or even hiring, sales strategy, product and service delivery to keep pace with what your audience wants but also to show your company is using it's influence for good, rather than evil?
Show up. Don't shrink. Not when your customers and society need you to lead.
Need help thinking through the current disruption and coming up with a solid game plan, in an efficient strategic sprint? Please reach out and we'll talk.