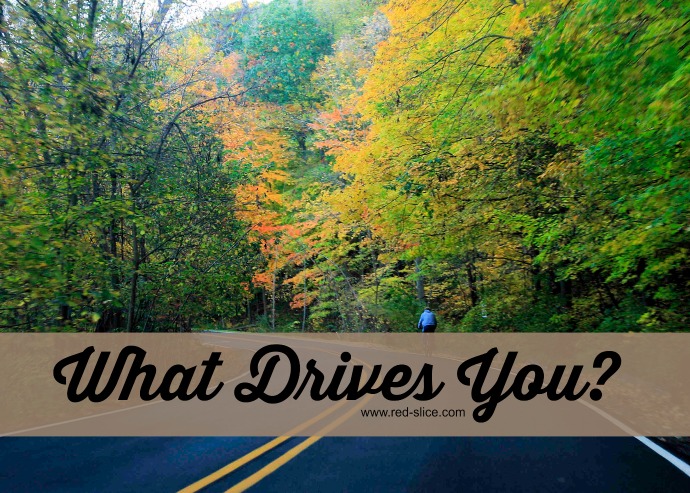 No one starts a business without a passion for change.
Sure, many people do so to make lots of money, but what they choose to do, and how they choose to do it order to make that money? That's often based on a problem they want to solve or an opportunity to make people, processes or communities better.
I'll bet this is true for your business, too.

Knowing what drives you is essential to your success.  (TWEET THIS!)
Let me share a story about motivation.
In 2008, I left Corporate America. My career included successful stints as a Fortune 500 management consultant, a marketer at Discovery Networks, an ad agency executive and several Director of Marketing positions at Silicon Valley tech companies.
Corporate life was great to me. It offered stability, a clear-cut career path, and benefits.
But as my marketing and branding skills grew, as I studied the greats like Ogilvy and as I saw first-hand what resonated with people and what did not, I realized something:
Many businesses forget that they are marketing to human beings.
This is never more true than in the business to business (B2B) space. So much jargon, overblown claims and eye-glazing boredom. No one talks like that!
Were we talking to robots…or to human beings with needs, desires and problems to be solved? Where was the connection? Where were the stories?
I'm a storytelling addict, in all its forms: An indie film. A moving play. An emotional video. A hilarious joke. A persuasive and succinct argument. I truly believe stories have the power to inspire, provoke, entertain, educate and persuade.
Marketing is not about lying to people. Marketing is simply communication, elevating the truth of your story so that the right people–the people who need what you've got–can find you and get on board. Truthful communication, where claims are backed up by proof but served with a side of emotion.
When I started Red Slice in 2008, I was excited. Finally, I could do marketing my way. Truthful. Emotional. Passionate. Human. I vowed to do work I loved with people I liked who were passionate about what they do. Period. No BS.
Honesty was important to me. I would offer tough love to my clients. Constructive feedback. Even if they made a different decision in the end, they would always get the truth.
Why? Three things happened in my early career that shaped this:
One, as a 21 year-old management consultant, I was asked to lie to a client about my age. Didn't matter that the client valued my work. Today, they call that "managing the optics."
Two, I strongly advised a client to go one route when she wanted to take another. I was pulled aside by my manager:
Me: But aren't we supposed to advise the best way for them to be successful? Isn't that what they are paying us for?
Manager: No, they are paying us to do what they say and not argue.
Three, when asked by a client to make advertising recommendations, I presented several options. There was just too much she didn't realize she had to first determine. The client complained that I was "wasting her time." I was asked to do less consulting and simply execute.
Me: You mean, you want me to be her secretary.
Manager: Well……um….kind of…..yes.
Needless to say, these instances devastated me. But they also fueled my passion for my work today.
It's important to know what drives you. Your unique philosophy. This is what the right customers will find attractive and rally to support.
The same values drove me to create MOMENTUM, my guided program for busy entrepreneurs. Working with me and a kick-ass group of entrepreneurs, you will streamline your efforts by building a unique, useful and honest brand strategy, step by step. Even if you say you "hate" marketing.
We'll cover how to determine your drive and articulate your philosophy to attract more of the right people to your business.
You will get feedback and support. You'll probably even get my tough love!
With MOMENTUM, you will learn how to message and share your unique approach as your best secret "client attraction" weapon. You can jump on the wait list and get all the details right here and I hope you'll join me.
Because like I always say: If YOU are not driven and inspired to promote your work, why should your audience care?
And I promise, that's the truth.
Photo Credit via Flickr