BOOKS
In addition to being a brand strategist, I balance business savvy with a creative fire that just refuses to burn out.  I moonlight as a writer for lifestyle sites/magazines as well as business sources like Entrepreneur.com, Amex OPEN Forum, Sharp Skirts, Microsoft Small Business Blog UK, Seattle Business and many more. Oh, to keep my creative storytelling mojo working, I'm also an actress.
Dig in and devour the words!
My Books
Branding Basics for Small Business: How to Create an Irresistible Brand on Any Budget by Maria Ross (2010, Norlights Press)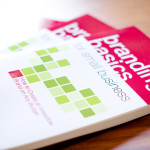 The book experts call, "a roadmap leading small businesses in the right direction," this book shows all entrepreneurs, non-profit execs and marketing professionals how to save time, money and headache on marketing, messaging and branding efforts. Wanna create a brand that connects with customers? Look no further than this fresh, sassy guide with case studies, examples and a foolproof 10-step process to crafting the perfect brand.
Check out more info, how to purchase  and all the rave reviews!
Rebooting My Brain: How a Freak Aneurysm Reframed My Life by Maria Ross (2012, Red Slice Press)
Rebooting My Brain is the true story of what happens when you get yanked out of your life by a crisis―and have to get back on the ride all over again. With refreshing candor, Maria Ross shares how the relentless pace of her life came to a screeching halt when an undetected brain aneurysm ruptured and nearly killed her. Along her stubborn road back to health, her resulting cognitive and emotional challenges forced her―sometimes kicking and screaming―to reframe her life, her work and her identity.
With humor and heart, Maria reveals the keys to her extraordinary comeback and how her perspective is forever changed, mostly for the better. Funny, touching and real, this book not only shares an inspirational story of transformation but enlightens readers about the surprising effects of brain injury… and explores the question, "How do our brains define who we are?"
Download free sample chapters, check out the rave reviews and buy your digital or print copy now!
My Articles
Enjoy my regular food and wine articles on IntoWine.com, Examiner.com, and Hanging Pig
Enjoy my urban life, food, wine and entertainment blog  
Past published clips:
San Francisco Downtown magazine:
KevinMD:
Dining Out SF online:
Seattle Business Magazine:
Entrepreneur.com
Columbus CEO Magazine
CRAVE:
Sharp Skirts:
The Mom Entrepreneur:
American Express OPEN Forum: