BUZZ + EVENTS

Get the scoop here on Red sightings and media buzz – about branding and other passions. Click here to see how Red Slice can liven up your next event with business or inspirational topics.
Check Out Red Slice In…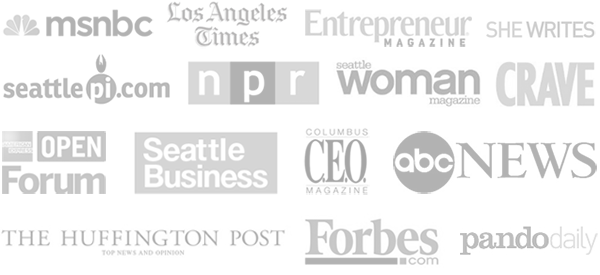 Seeing Red: Upcoming Events
November 20, 2014: Stand Out in a Sea of Lookalikes: How to Create Your Own Irresistible Brand. Women in Consulting (Bay Area), Chapter Meeting Keynote Speaker
December 5, 2014: BlogHer Pro Silicon Valley. Sofitel, Redwood City, CA. Presenter at FOCUS ON: Media Kit breakout session.
Red Ink: Press and Media Buzz
Check out Maria's Your Business Interviews on MSNBC:
Boomer Business Network: Insider Secrets for Branding Your Business, December 5, 2014
Marketing Lifestyle Podcast: Branding Like a Boss, November 14, 2014
What's the Word? with Cheval John: Building a Personal Brand (PODCAST), September 30, 2014
Smart Brand Marketing with Tom Libelt: Building a Personal Brand (PODCAST), September 23, 2014
Idea Design Studio, Expert Interview with Maria Ross, September 10, 2014
Lioness Magazine, Maria Ross Takes a "Slice" Out of Branding Industry, July 13, 2014
Entrepreneur on Fire: Creating an Irresistible Brand (PODCAST), July 4, 2014
Cheval John Blog Talk Radio, A Mental Shift in Running Your Business (PODCAST), May 27, 2014
Savvy Sexy Social, Branding Basics for Small Business (VIDEO), May 14, 2014
Butler on Business, Branding Basics for Small Business, April 11, 2014
The Big Biz Show TV and Radio Show: Branding Tips with Author Maria Ross, April 8., 2014
The Suitcase Entrepreneur Podcast: How to Build a Brilliant Brand for your Small Business, April 7, 2014
Under30CEO: Beyond the Pretty Logo: Why Hiring is Your Most Important Brand Decision, April 7, 2014
Yellow Dog Consulting: Marketing Terms Decoded: Branding vs. Marketing, April 3, 2014
Personal Development Café: Make Room for Content Marketing, April 2, 2014
Business Unplugged: Frenemies: Why Playing Nice with the Competition Makes Sense, April 2, 2014
MarketingProfs: Develop Your Brand Voice: 3 Keys to Killer Messaging, April 1, 2014
Entrepreneur Podcast Network: Branding Basics for Small Business with Maria Ross, April 1, 2014
CRAVE Urban Campfire: How to Energize and Inspire your Customers, Clients…and Yourself!  March 31, 2014
Seattle P-I: How to Create Killer Content Marketing, March 28, 2014
Fabulous Female Network: Must Read for All Business Owners, March 25, 2014
Nextiva: 6 Surefire Signs Your Brand Needs an Overhaul, November 8, 2013
KVTA AM, Orange County, CA The Kim Pagano Show, October 19, 2013
CBS Marketwatch: Assurant Employee Benefits to Award Shining Star of Perseverance to Women Who Defied Death and Overcame Their Disabilities, October 7, 2013
WSJ Online: Assurant Employee Benefits to Award Shining Star of Perseverance to Women Who Defied Death and Overcame Their Disabilities, October 7, 2013
Huffington Post: Who Am I? How Crisis Reframes Our Identity, August 26, 2013
Reputation.com: Branding with Maria Ross, August 20, 2013
MSNBC's Your Business: 3 Tips for Building a Small Business Brand, August 7, 2013
Entrepreneur Podcast Radio: Building Brand Buzz and Loyalty, May 25, 2013
Pando Daily: Study Shows Lumosity Brain Games Can Rehab Your Brain, May 14, 2013
Social Media Today: Is Your Brand Tattooed on Your Customer's Brain? May 3, 2013
Dlvr.it: Why a Clear Brand Strategy is Vital to Effective Content Marketing, April 18, 2013
Yellow Dog Consulting: Got Brand? March 29, 2013
KGO Bay Area Radio, The Finch Files: Maria Ross, January 30, 2013
KGO Bay Area Radio, The Monty Show: Rebooting My Brain, January 19, 2013
Successful Women Talk: 7 Business Lessons Learned from a Brain Aneurysm, [VIDEO] January 17, 2013
Forbes.com: How the Evolution of Video and Image Software Will Change Small Business, January 15, 2013
Hungry for more?  See past press coverage »»
Past Events:
Seattle Chamber of Commerce Smart + Simple Strategies for Small Business
Check out this presentation to over 200 small business owners at this event sponsored by Microsoft