BUZZ + EVENTS

Get the scoop here on Red sightings and media buzz - about branding and other passions. Click here to see how Red Slice can liven up your next event with business or inspirational topics.
4 Weeks to an Irresistible Brand: Starts Jan 7, 2014
This super-powered virtual coaching program will show you step-by-step how to build an effective brand + marketing plan for 2014 that is clear,manageable, on-target and effective at attracting just the right customers and clients. You'll get access to me for 4 weeks as we craft your plan to make 2014 the year your brand sparkles and shines. Committed entrepreneurs and business owners only. But HURRY! Enrollment closes on Dec 20, 2013 and spaces are limited to ensure your maximum success and value.  Learn more….
Check Out Red Slice In…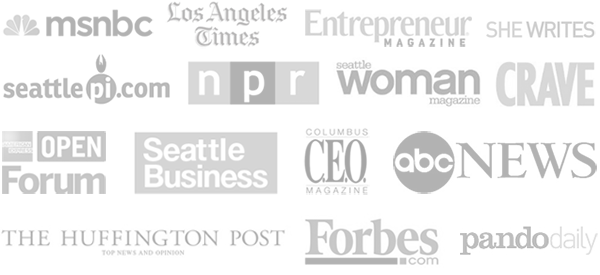 Seeing Red: Recent & Upcoming Events
July 25, 2013: BlogHer '13, Chicago, IL . Pathfinder Day keynote speaker
August 13, 2013: CRAVE's Urban Campfire, Seattle, WA
September, 2013: NAWBO Silicon Valley Dinner Keynote, Mountain View, CA
October 8, 2013: Assurant Shining Star Program, Kansas City, MO
December 11, 2013: WORKSHOP! Branding Basics: How to Build an Create an Irresistible Brand on Any Budget, Makeshift Society, San Francisco, CA
January 9, 2014: Women's Business Exchange, Seattle, WA
Red Ink: Press and Media Buzz
Check out Maria's Your Business Interviews on MSNBC:
Nextiva: 6 Surefire Signs Your Brand Needs an Overhaul, November 8, 2013
KVTA AM, Orange County, CA The Kim Pagano Show, October 19, 2013
CBS Marketwatch: Assurant Employee Benefits to Award Shining Star of Perseverance to Women Who
Defied Death and Overcame Their Disabilities, October 7, 2013
WSJ Online: Assurant Employee Benefits to Award Shining Star of Perseverance to Women Who Defied Death and Overcame Their Disabilities, October 7, 2013
Huffington Post: Who Am I? How Crisis Reframes Our Identity, August 26, 2013
Reputation.com: Branding with Maria Ross, August 20, 2013
MSNBC's Your Business: 3 Tips for Building a Small Business Brand, August 7, 2013
Entrepreneur Podcast Radio: Building Brand Buzz and Loyalty, May 25, 2013
Pando Daily: Study Shows Lumosity Brain Games Can Rehab Your Brain, May 14, 2013
Social Media Today: Is Your Brand Tattooed on Your Customer's Brain? May 3, 2013
Dlvr.it: Why a Clear Brand Strategy is Vital to Effective Content Marketing, April 18, 2013
Yellow Dog Consulting: Got Brand? March 29, 2013
KGO Bay Area Radio, The Finch Files: Maria Ross, January 30, 2013
KGO Bay Area Radio, The Monty Show: Rebooting My Brain, January 19, 2013
Successful Women Talk: 7 Business Lessons Learned from a Brain Aneurysm, [VIDEO] January 17, 2013
Forbes.com: How the Evolution of Video and Image Software Will Change Small Business, January 15, 2013
Hungry for more?  See past press coverage »»
Past Events:
Seattle Chamber of Commerce Smart + Simple Strategies for Small Business
Check out this presentation to over 200 small business owners at this event sponsored by Microsoft