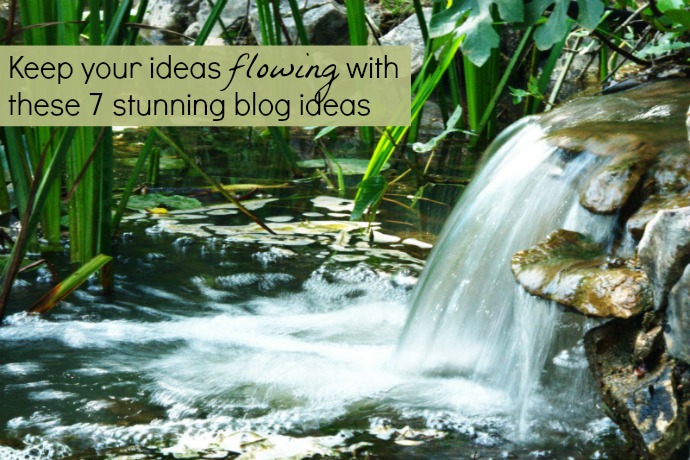 You're staring at the cursor and it's blinking at you, taunting you. You sigh.
When you were out driving earlier today, you had a ton of clever blog post ideas that just came to you with no effort. But you couldn't write them down. And now – poof – they are gone with the wind.
This happens to me all the time. I seriously wish I could record the thoughts I have right before falling asleep. I've written 5 novels in my head this way. But I can't remember a damn thing once I wake up. So I was inspired by a hilarious video from my buddy Amy Schmittauer of Savvy Sexy Social to share my own take on 7 simple and stunning blog post ideas – these will help so much when you can't think of anything to write about.
And BONUS TIME: Any of these can easily be turned into a free email opt-in download, a lead magnet for your next course, an eBook, a podcast, a video…..you get the idea. Recycle, people.
Oh, and the numbers below are arbitrary. It's up to you to pick how many you can create – but play around with being short and sweet (3 quick tips…) versus providing a more exhaustive resource (64 ways to….). See what resonates with your audience the most.
7 Simple and Stunning Blog Post Ideas – When You Can't Think of What to Write About (Tweet This!)
3 Crucial Tips for… (YOUR SUBJECT AREA HERE). …Building a Website, …Finding Inner Peace, …Choosing a Killer Date Outfit, …Buying the Right Engagement Ring. Whatever your business does, surely there are 3 basic tips that you always seem to share with prospects or customers. This worked well for me when sharing 4 Clever Ways to Make it Easy For Others to Promote You and 3 Tips for Smarter Small Business Marketing. Don't fall into the trap (as I once did before a wise woman slapped me upside the head – with love) of assuming "everyone know this." They don't. It's why you have a job.
6 Questions to Ask When… (YOUR SUBJECT AREA): People love to read articles that guide them when making a decision. And, heck, no one says you can't choose questions that would immediately point them to your products or services if it's a good fit – just make sure you're being unbiased, as people may feel like you're being slimy instead of helpful. So how about: …Choosing the Right Accounting Software, …Picking the Perfect Executive Coach, …Creating Your Social Media Strategy.
5 Powerful (YOUR FIELD) Lessons from (POPULAR NEWS TOPIC/CULTURAL REFERENCE): This one is super fun, because it allows you to be timely (and show up in what people are searching on right now) and showcase your cleverness in relating your expertise to something that culturally binds us. One of my most popular blog posts was 4 Powerful Business Lessons from James Bond and Skyfall. The other form this can take is "What (POPULAR TOPIC) Can Teach You About (YOUR FIELD)." Relate key lessons or tips you always talk about to something timely and hot and give it a fun spin (if the topic allows for it) or simply analyze a current news story through the lens of your expertise, as I did in popular posts about Lance Armstrong's and Susan G. Komen's epic brand fails.
7 Lessons Learned When (YOUR FIELD OR INTEREST): You have wisdom to share based on your experience (See #1 above) and your audience is thirsting for it. What can you share about mistakes you've made, unique things you've done, or clients you've worked with? What can they learn from your story? Remember, share your lessons but ensure you make it about how it applies to the reader. I loved sharing 7 Lessons I learned While Writing A Book…And What They Can Teach You as well as, yes, the 7 lessons that a brain injury can teach you about your brand.
Pose a question related to your subject area: Think about the most popular questions you get asked about your business, brand or profession and turn that into a single-threaded blog post. How Do I Write Good Sales Copy? How Do I Work with a Stylist? How Long Does A Website Take to Build? What is a Brand Strategy? This helps you showcase your expertise, offer great advice and even make it easy for new people to join your tribe and not feel like they don't know some inside joke. Remember, your audience may be at different phases of the buying cycle and are only just now getting to know you and your brand.
Interview another rockstar expert: Are there folks related to your field from whom your audience would loooooove to get the inside scoop? You don't have to be the expert in everything. But you can be the go-to resource for curating that info and brining those guests to your community. Are you a health and wellness coach? Interview a stylist to help your clients showcase their brand new health bods. Are you an Etsy store selling handmade jewelry? Interview a party planner on how to throw the perfect jewelry party for your friends. Do you sell customer management software to small businesses? Interview a branding expert to give them tips on how to build their brand online and create compelling content. These can be super easy to create. In my Slice of Brilliance column, I interview experts in related fields that are of interest to you and send them a 3-question form to fill out. You get a great blog post, your audience gets great content, and you get the added bonus of that rockstar also promoting your post! #Winning
Make one observation on your industry and present your point of view: These are the thought leader posts, the ones that inspire, delight, provoke thought – and get shared. There must be something you love or hate about your industry that you have a view point on: your disgust with smarmy sales pitches (if you're a sales consultant), your crush on brands that give back to the community (if you run an advertising agency), your confusion over why contracts can't be written in plain English (if you're a lawyer), your deep hatred of hyperbolic software sales claims (if you run a software company). How can you make this personal commentary interesting and relevant to your audience? Ensure there's a strong takeaway that they can ponder or act upon – otherwise it's just a rant. I tried to do this with my observations about how perfection holds many people back from birthing their great ideas into the world or why you are called to create something that matters, rather than spew more noise into the world.
P.S. Need help coming up with more compelling content? Want to learn the secrets to writing copy that seduces your audience? Want more content creation tips? Get it here.
Image credit: qnuckx via Flickr