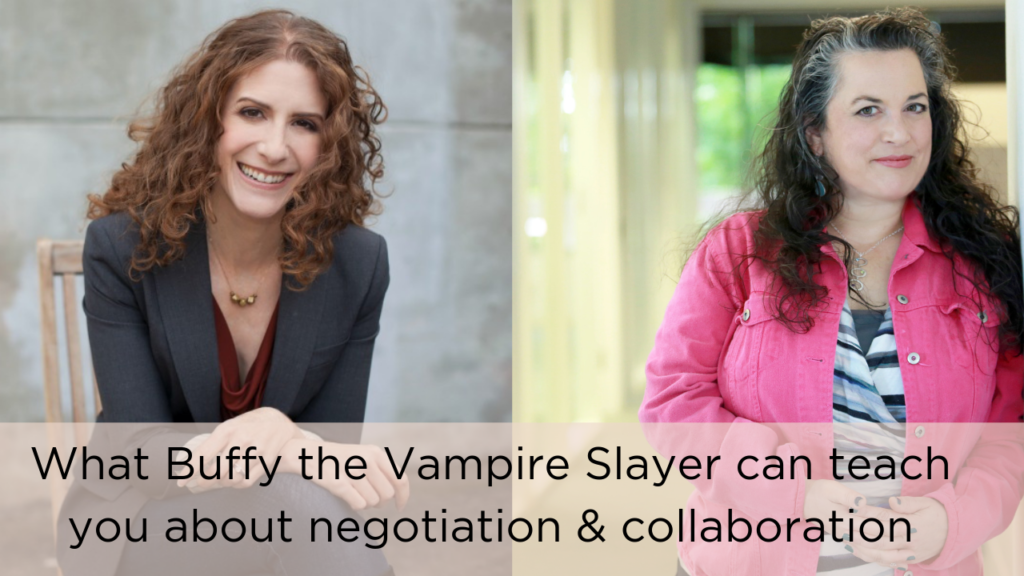 Nice guys and gals finish last.
That has been the conventional wisdom, hasn't it? That only sharks using cutthroat tactics can make favorable deals and negotiate effectively.
Turns out, empathy is a secret weapon when it comes to negotiation and effective collaboration. And author, activist and strategic consultant Elisa Camahort Page shared with me how she learned this powerful lesson from an unlikely source: Buffy the Vampire Slayer.
Elisa knows how to successfully get what she wants, so of course, I had to sit down and talk with her about how empathy helps you negotiate deals that are mutually beneficial for both parties.
Elisa is known as co-founder and COO of women's media company, BlogHer. After the successful sale of that powerhouse brand, she's now focused on speaking, writing and consulting with entrepreneurs and organizations. She co-wrote Roadmap for Revolutionaries: Resistance, Activism and Advocacy For All, a resource guide to activating around causes you care most about, which features contributions and/or endorsements by diverse activists and advocates such as Gloria Steinem, Guy Kawasaki, Soledad O'Brien and Senator Kirsten Gellibrand (get it – it's empowering!)
Elisa's thinking on this topic was triggered by an episode of her favorite cult classic TV show, Buffy the Vampire Slayer. If you're not familiar with it, she gives us a quick overview.
So many things I think you'll love about this energetic interview, especially:
Highlights include:
*Why Buffy the Vampire Slayer is rich with lessons in leadership and collaboration (2:23)
*How innovators can learn to see unintended consequences and "take responsibility for the magic you create" (12:15)
*What BlogHer taught her about mutually beneficial relationships (13:30)
*Three things to look for in healthy relationships…and three things that can destroy partnerships (14:21)
*Why we need to compromise and prioritize (18:30)
*How to think about inclusivity when marketing and storytelling (20:30)
* The easiest way to get to what someone really wants (28:21)
Too many great Tweetables from Elisa, so I'm giving you my faves!
"Innovation + Empathy > Innovation + Efficiency"
(TWEET THIS!
)
"Instead of thinking about negotiation as a war, think about it as party planning. What pieces do you need in place to get this party started?" (TWEET THIS!)
"You can't develop a bigger audience and community until you develop empathy for the people you want there" (TWEET THIS!)
Learn more about Elisa Camahort Page's speaking and writing on her website
Follow #RoadMap4Revs for info about the book, Roadmap for Revolutionaries
Check out her new consulting firm, Ternstyle Group
Discover her work with Mentor Bureau
Connect with her on Medium, Facebook, or Twitter @elisacp