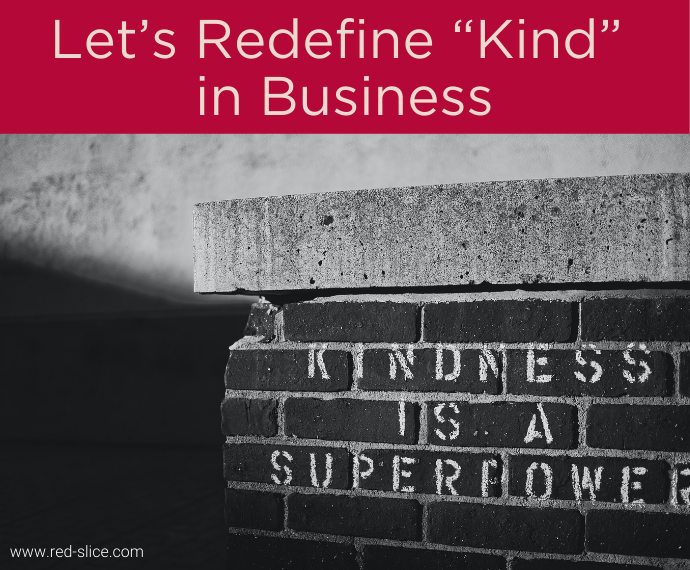 Conscious capitalism. Compassionate workplace. Empathetic leadership. Kindness at work.
What do all of these terms even mean?
Many times throughout my career, I've dealt with dysfunctional workplace cultures, leaders who were at best disinterested and at worst emotionally abusive. Co-workers that yelled at me. Like, screaming so nonsensically, I had to hang up on them.
We talk about this behavior os "unprofessional" or "counterproductive." But I have a better term. It is mean. It is unkind.
But what does it mean to be kind in business?
Is it simply bringing cookies to work, or covering for a coworker, or saying please and thank you? Is it letting people walk all over you, or shrinking back, or saying yes to everything? Nope.
Let's redefine kindness in business to mean….
…clarity. Being crystal clear about instructions, expectations and next steps. So no one is left unprepared or guessing.
...listening. Holding space for other ideas and viewpoints with judgment or defensiveness.
…managing expectations. So one is ever disappointed. Contracts, agreements, clearly worded objectives and goals.
…random praise. It's not always about telling people what they can do better. It's about sharing what someone did well, and doing it everyday. Not just during a performance review or project debrief.
…good timing. Showing up on time to respect someone's time. Managing meetings so goals are met in a timely manner. Knowing when to share something with the group and when a private conversation is required. Giving feedback in a timely manner.
…having tough conversations. Not avoiding conflict but openly and directly discussing when tensions are running high. It's kind to address issues rather than sit on them and fume.
…loving honesty and directness. Honestly saying what you think and how you feel because you genuinely care. "I share this because I want was is best for the team and for you" versus "I share this to cut your down, shame you and make you feel bad." See also Good Timing as a complement to this.
...admitting when you're wrong. You respect others when you admit you were wrong about something and find a way forward together. You set a model that failure is okay and risk-taking is encouraged.
Clarity, listening, managing expectations and all the rest may seem like simply good communication tactics. And they are. But when done with love and respect for others as individuals and thinking, feeling, human beings, they become kindness. (TWEET THIS!)
More on how kindness and empathy show up at work:
5 ways your business can make the world a better place
3 ways to practice empathy at work
How to redefine success with empathy