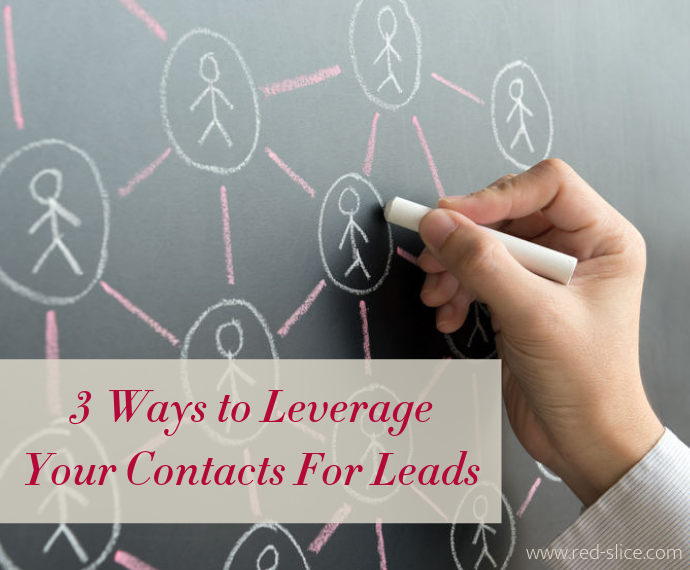 You may think you don't have enough reach, a big enough email list or enough leads.

But you are actually sitting on a goldmine. And you might be ignoring it.

Recently, I learned the importance of clearly reaching out and communicating your work to people you know. Yes, just took me more than 11 years in business to learn how to be proactive on this! #latebloomer

All of us have networks of former colleagues or clients. All of us have some quantity of people on our email lists, be that 100 or 10,000. All of us are connected to people through social media, especially LinkedIn. You might think some of them can't help you get more clients and customers, but they can.

This is your lead and referral base. Time to start nurturing it!

Here are 3 ways to leverage your existing network, client base or email list for more leads and revenue opportunities.

Reach Out: This year, I've committed to reaching out to 5 contacts. Just a short, sweet note of connection. These could be folks from my corporate life, colleagues I've met at business networking events, former clients. People who may or may not need my services right now – but may know someone who does. I'm letting them know what is going on with me and inviting them to coffee or a Zoom call so we can connect and help each other. This is not just about you being selfish: Reconnecting with your network is a great way for you practice generosity and see how you might be of service to them. Remind them that you exist and you may just unlock new business or yourself…or for them.
Tag Emails and Posts with a CTA: This is a technique that works so well for sales coach Leah Neaderthal of Smart Gets Paid. You may have noticed in recent emails or social media posts, I'll occasionally mention "3 ways I can help" and remind fans about my 90-minute Brand Booster sessions, free private Facebook community they can join for entrepreneurial advice (MOMENTUM for Savvy Entrepreneurs) or DIY digital course for marketing success, MOMENTUM Pro. This has helped kick start folks into action. We are all busy. No one remembers everything you do, so it's on you to continually remind them! As my good friend and colleague conversion copywriter Betsy Talbot always says, "You have to tell your clients how to buy from you!"
Love Your List: I don't care how big your email list is. You need to love on them! Quality beats quantity any day. These are your biggest fans, so make them feel special. Offer exclusive content, provide free trainings, heck, send them an inspiring playlist! Not sure how to love on them? Grab some templates and ideas from CLIENT LOVE, so you can love the fans you've got and attract even more. When you love your existing tribe rather than always striving to "collect" new subscribers to clients, you turn them into brand evangelists!
People are busy. They forget about you or what you do. They don't keep up with every new launch, rebrand or product you have to offer.

Don't waste your existing network, fans or client base: Remind them you are there and how you can help.

Proactive generosity and connection will always bring you success.
(TWEET THIS!)