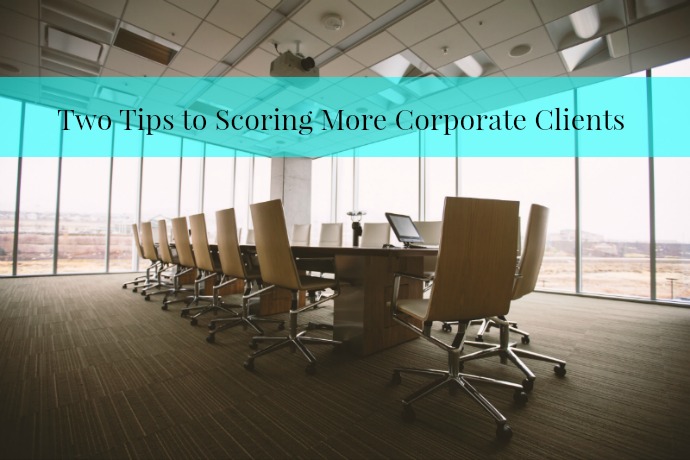 Many of my clients do amazing work for individuals. They are coaches, consultants, designers, or health and wellness professionals who have transformed the lives of those they serve.
But sometimes, they want bigger things.
They want to expand their client base to include corporate clients and get hired by organizations to do workshops, seminars or just be their go-to (fill in the blank) for the employees. Frankly, there's just more money there!
But their brand has a problem: they are speaking the language of individuals and not understanding the way the corporate machine works.
See, I've been on the corporate side. For a long time. Vendors used to pitch me about their services and talents and I knew exactly what the world of the director or executive was like. I had to say "no" to people I would have loved to work with, simply because this was not a priority or I could not prove the value to the organization well enough.
It's not enough to stick with the brand benefits you've been touting to individuals:
Reduce stress! Stay focused! Increase your self-esteem! Unlock your creativity!
When it comes to selling into large organizations of any kind, you have to bear these two important tips in mind:
In some cases, the buyer may not be your end client, which means selling them on what you can do to make them successful.
The buyer has to unlock corporate budget, which means tying your work back to corporate value.
The Buyer May Not Be The End Client
The buyer is often in charge of finding people like you, but may not be the person you will serve. For example, you might offer leadership coaching, but you're being hired by the VP of Human Resources or Talent Development to serve their constituents.
This is important because the benefits you cite are not about the person you're talking to, but what you can do for their "customers," so to speak.
Who are they responsible for? What needs do they have to fill for those people?
It's a subtle shift, but it's about proving value to a third party. You are serving someone else, but the VP gets to make the decision. What are her goals? What are her success metrics?
Taking our leadership coach as an example: if Claire at Acme Company is responsible for employee retention, satisfaction and management capability, then chances are she needs you. She is responsible for employee success, performance, growth and succession planning. Claire is charged with grooming new leadership. Bingo! In addition to talking about what you bring to her employees, you need to make sure Claire understands how you will help her succeed in her job. Slightly tailored message that needs to be developed, but many of my clients have failed to think about Claire's world before pitching their services.
The Buyer Must Unlock Corporate Budget
When selling to individuals, or even solopreneurs or start-up founders, they are making the ultimate decision and in many cases, using their own funds to do so.
Not so with corporate clients.
They are spending corporate budgets and need approval. Which means the client must justify how your work benefits the organization at large. It's not enough to say how much happier, more creative, more mindful, more focused their employees will be from working with you.
You have to tie your work into benefitting the company's growth or bottom line. (Tweet this!)
This just means taking an extra step or two with your messaging. What does all that great individual work buy the company? If you enable people to handle stress better, then the company can reduce sick days and burnout, which reduces costs and increases productivity. Can you cite any statistics or numbers? That would be insanely effective to convince the powers-that-be to loosen the purse strings.
Or maybe your work is about getting people to think more creativity or trust their intuition. How does this translate to a company benefit? Maybe you've seen it in action. Does it improve workplace relationships and foster better internal communications? Does it yield more innovation and employee satisfaction, which in turn helps the company not only stand out in the marketplace but attract the best talent?
Yes, many companies want to do right by their employees simply because it's the right thing to do. They want them to be happier, to grow, to communicate more effectively, to be healthier. But the dark truth is that while the intentions are good, the bottom-line motives still exist: the expense has to benefit the company at large in some way, such as increasing revenue, lowering costs, decreasing turnover, or even attracting better talent.
The good news is that there are many simple ways to connect the dots when pitching such clients. You just have to remember the world your corporate clients live in and the challenges they face and adjust your message to be relevant.
Photo credit: Benjamin Child, Unsplash