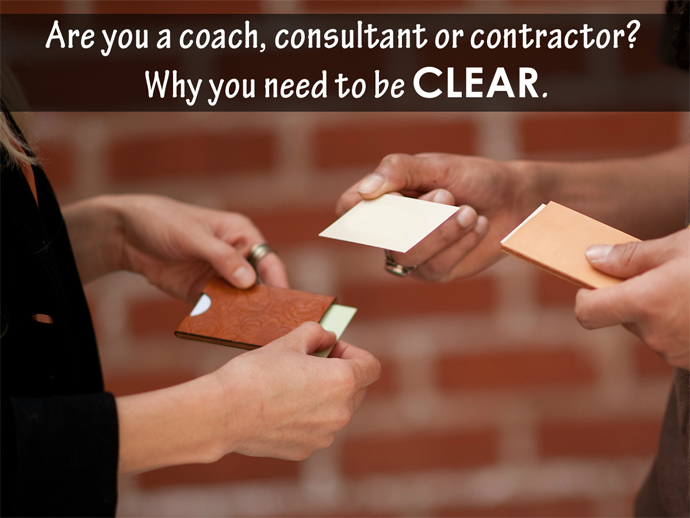 The other day, I was talking to a fellow business consultant about our worlds. A friend had connected us as "two power women" which I was pretty honored by and this woman, for sure had the power gene in spades and I instantly fell in love with her over the phone. She was bold, fierce and knew exactly what her value was in the market. Confidence (not to be confused with arrogance, my friends) is sexy.
She admired the way I've packaged up my consulting versus my coaching offerings, which led us to commiserate about how people confuse the terms consultant, coach and contractor.
Such misunderstanding forced me to tactfully point out to a really difficult CEO many years ago that he was paying me to be a consultant, not a contractor. He wanted to go down a path that was in stark contrast to our team's findings and experience, and so we parted ways.
So what's the diff? Keep in mind these are not legal definitions for tax purposes, but thoughts on how to be mindful of positioning yourself:
A consultant is an advisor. She researches and uses specific tools and processes to recommend a strategy or course of action. You are paying for that recommendation. Whether you choose to reject or implement it is up to you, and part of the contract should state how much back and forth or "tweaking" is done to that recommendation. It also means a consultant may or may not choose to continue working with a client on a strategy they feel is the wrong direction. Some consultants will go on to implement the plan they come up with for you, but some do not. For my clients, I offer discussion and tweaking of my SLICE package while we're engaged on the project. After that, they can do with it what they want. It's not an endless loop.
A contractor is someone you hire to do a specific task based on their expertise but ultimately, your orders. They implement an existing plan or activity. Run these campaigns. Manage my Twitter account. Create the flyer with this copy. They are very valuable and while many contractors call themselves this from a legal/tax standpoint, and offer both strategic advice and implementation, the understood business arrangement is that "you do what I say" and he or she is essentially an order-taker.
A coach is a mentor, a guide, a sanity-checker, a sounding board. Someone who can offer a framework to talk through your specific ideas and plans and then you, as the client, are responsible for taking action or not. The onus is on the client to come prepared with an agenda, discussion points, key questions they want to hash out. A coach does not necessarily produce deliverables for you unless that is the arrangement or they choose to share a tool, article, or perhaps, research something for you. But like a psychotherapist, there are no "action items" for the coach after each session.
If you offer professional services, be mindful of how you position yourself. Your title is a branding decision. I call myself a "Brand Strategist" to really drive home that if you need someone to create a detailed tactical marketing plan and execute it, I'm not your girl.
Your job title defines your brand position. Make a smart choice to ensure the right expectation of your work. (Tweet this!)
Look through your website. What do you call yourself? What could this lead prospects to believe you do or do not provide? Are you finding yourself constantly re-hashing your core competencies? The problem could lie in your job title or messaging.
Good news is that I can help! If you're struggling to position your offerings or clearly articulate what you do and why you're different I've got so much more to share with you. Check out MOMENTUM Pro to learn more!
Image Credit: Erin Berzel Photography, erinberzel.com via Flickr