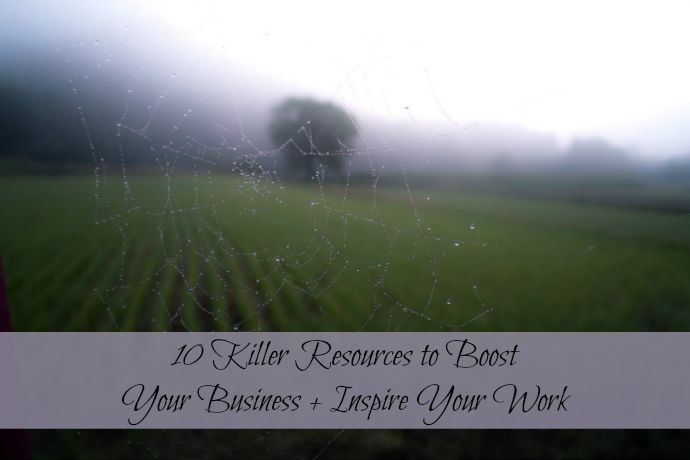 It's hard enough to find time in our busy schedules to read all the great posts you can find online, much less consume all that great information. So, this week I thought I'd give you a quick round up of 10 articles from around the web that will wonderfully boost your daily business activities.  Check these out for inspiration, business guidance and a little motivation…and please share to your heart's content!
20 Smart Ways to Generate More Leads for Your Business
You may already know about some of these existing resources and tools for business development: Now jumpstart your lead generation efforts with a few new tips on how to use them.
More Than Personas: How to Know What Your Audience Really Wants
While I still think creating ideal customer personas is a HUGE help to focusing your marketing efforts and creating a connective brand, this article features other expert examples on how to identify your audience needs.  My faves? "Pull up a digital seat"and "Ask and track."
The Difference Between Strategy And Tactics And Why You Need To Know
Ah, my favorite, favorite topic! An often mistaken distinction that can make or break your business success  -and your sanity.  I adore Bernadette Jiwa and you will, too. Main message: Stop working backwards.
The 200-Word Guide to Personal Branding
Personal branding requires you to be in the spotlight and you need to be ready. This is a short guide to getting your brand up to par.
Improve Your Email Content With a 7-Minute Workout Routine
A handy infographic that provides a quick "maintenance boost" to your email content and campaigns.
How to Address Marketing's Big, Nasty and Age-Old Believability Problem
Faced with a world of disbelief, marketers can often get discouraged that they are not making headway. This article features some provocative FAQ's on the subject and how you can address them.
Buffer Stopped Posting for 30 Days and Here's What Happened
This is a great read to solidify thoughts on content re-purposing and taking some time to create.
How To Be Creative When Your Brain Doesn't Want To Play
Addressing writers block with a little creativity instead.
And these 5 bonus ones from yours truly. Enjoy!
Get inspired! 20 of the best branding + business quotes
No matter your focus, I gathered some of my favorite business quotes to inspire you through the challenges.
The Not-So-Secret to Brand Success
It's probably on your mind after all the inspirational posts you've just combed through, but this not-so-secret that I shared last year is still very relevant.
How to Define Your Audience and Boost Your Brand as a Writer – MASH Stories, a blog for young writers worldwide interviewed me on this hot topic.
Here's a piece I wrote for Online Super ninja called 4 Tips to Making Your Message Sexy (ooh la la!)
And a lovely shout out from One Woman Shop, where Red Slice was named one of the 100 best sites for solopreneurs. Honored to be in such company!
Which article is resonating the most or causing an "A Ha!" moment for you? Would love to know in the comments below!